December 07, 2018
10 Super Specific Ways You Can Make a Difference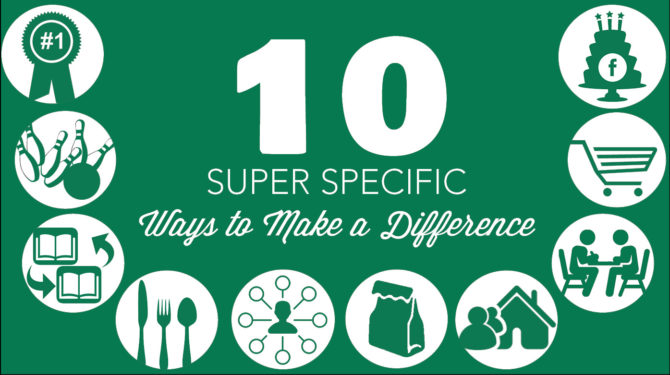 People who have visited Seeds, talked with our students and tutors, and have seen the results of our program always ask us: How Can I Help? And the simplest answer is: (1) Donate (2) Volunteer (3) Attend an Event (4) Tell Others
But if you're looking for REALLY SPECIFIC ways you can help support Seeds of Literacy, this is the blog for you! We've compiled a list of ten things you can do to make a big difference at Seeds.
(1) Bake Off / Cook Off
Challenge your family, friends, or coworkers to find out who the best baker or chef really is! Designate an entry fee to compete, host your competition, and then donate the proceeds to Seeds. The winner receive bragging rights!
(2) Game Tournament
Bowling, billiards, trivia, cards, board games, or outdoor sports like golf — find something your friends and family will enjoy. Just be sure that one of the "events" includes trivia and add literacy to the trivia round by pulling HSE practice questions from our website. Designate an entry fee to participate and split the proceeds between the winner and Seeds.
(3) Book Drive / Swap
Visit your local bookstore for donations of "damaged" books, clear off your own shelves, or take up a collection at work. Or, host a book swap with your friends! Donate the leftovers to Seeds. We always need new or gently used novels (of any genre). Self-help, inspirational, and cook books are also popular. (But please, no textbooks or encyclopedias.)
(4) Host a Dinner Party

*
Liven up your next dinner party with a presentation about literacy. Show off your social justice savvy and invite a speaker from Seeds to share stories from our classroom.
(5) Become an Online Influencer
Do you have an active social media life? Follow Seeds on Facebook, Twitter, Instagram, and LinkedIn. Share your reactions to our stories with your network. Give it your own personal touch.
(6) Lunch & Learn

*
If your employer offers Lunch & Learn workshops, invite a Seeds speaker to visit your office. Students and alumni will accompany a staffer to share their stories while you snack on lunch.
(7) Tour Our Classroom

*
Take a field trip from your office by inviting your supervisor and managers on a half-hour tour of Seeds. See the classroom in action. Talk to students about why Seeds works for them, and talk to tutors about why they help students thrive.
(8) Become a Volunteer Tutor
You don't have to be a professional educator to be a tutor. We'll give you all the tools you need to change lives through education. Tutor Training sessions are held (almost) monthly.
(9) Shop Supplies
K-12 classrooms aren't the only ones that need supplies. Seeds always needs copy paper for our curriculum, tissues, pencils, "readers", erasers, and more.
(10) Birthday Bucks
Facebook allows you to host online fundraisers for your birthday, without the hassle of collecting the funds yourself. Follow the directions to start a fundraiser and share the Seeds story. They do the rest.
*Contact us at communications@seedsofliteracy.org.
# # #
KLK