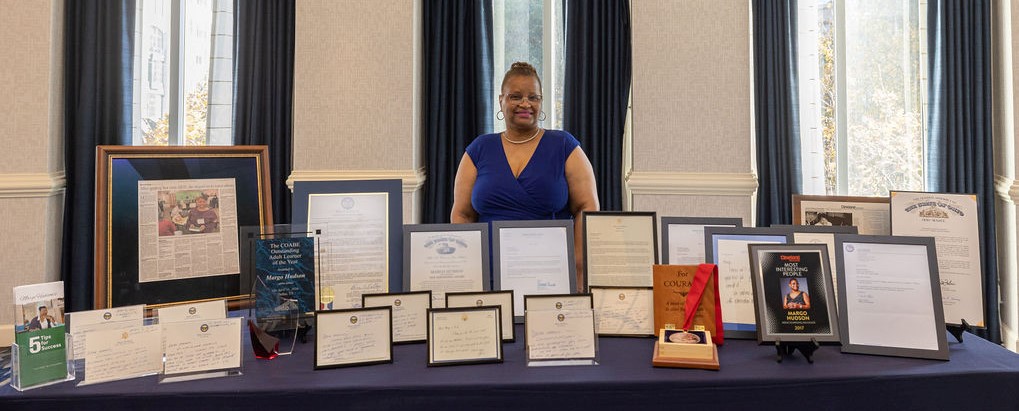 Margo Hudson has become a bit of a celebrity. After graduation, she's continued to be an outspoken champion for adult education and the Seeds program.
She's a friend, a tutor, an advocate, a public speaker, a mover and shaker in Cleveland, a national award winner, and so much more. Her face is even on the side of a bus! Learn more about Margo's journey below.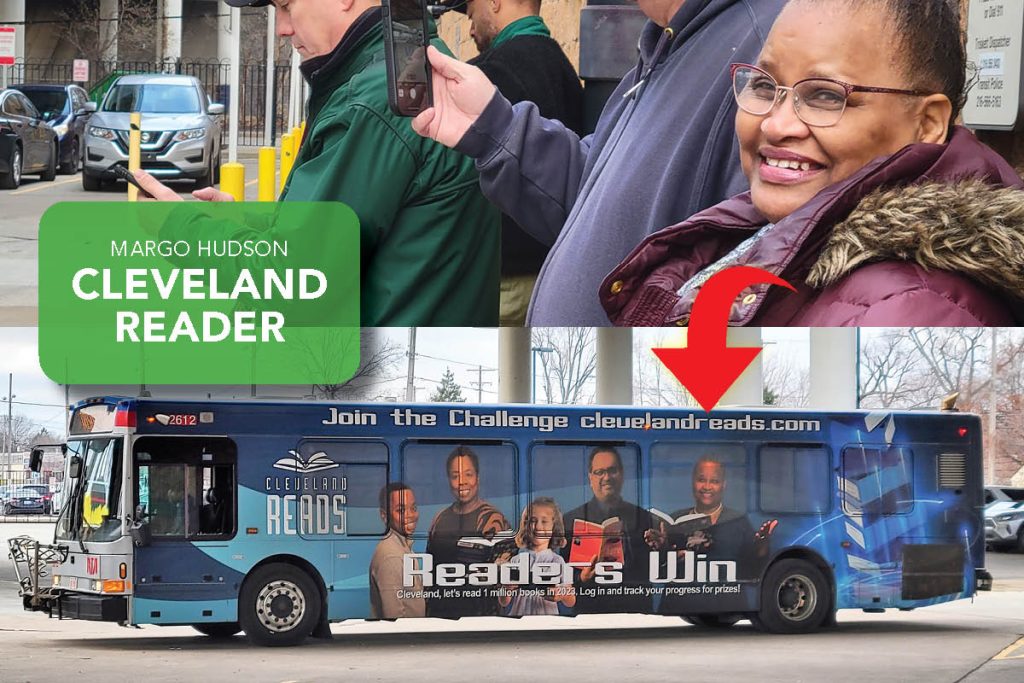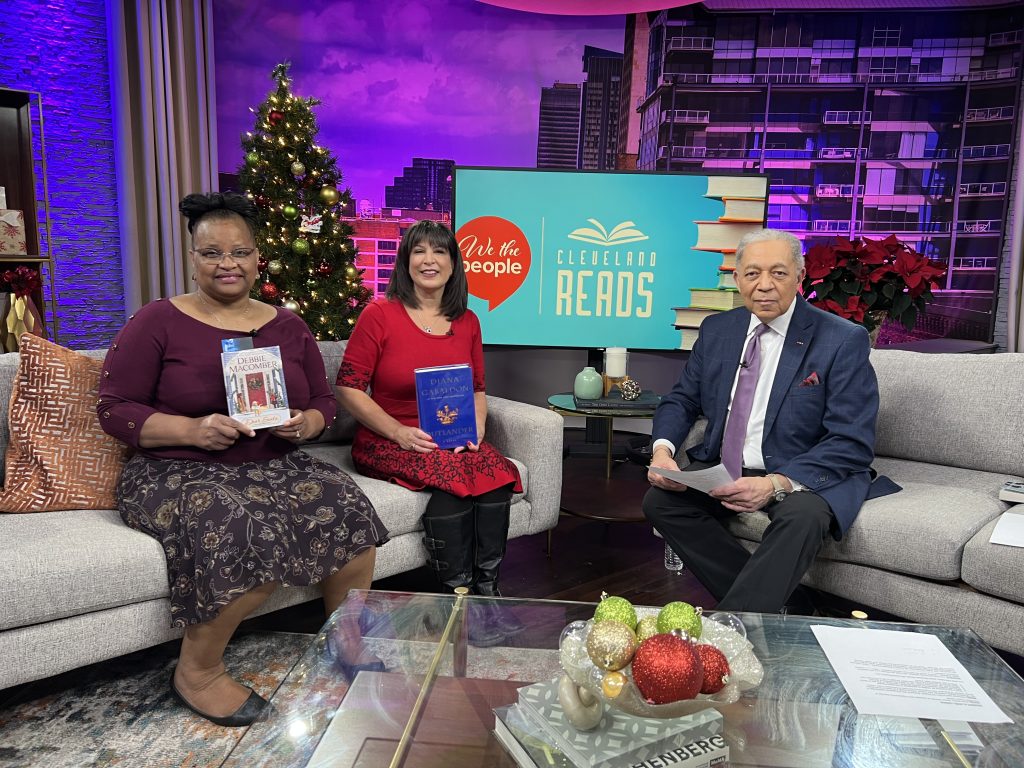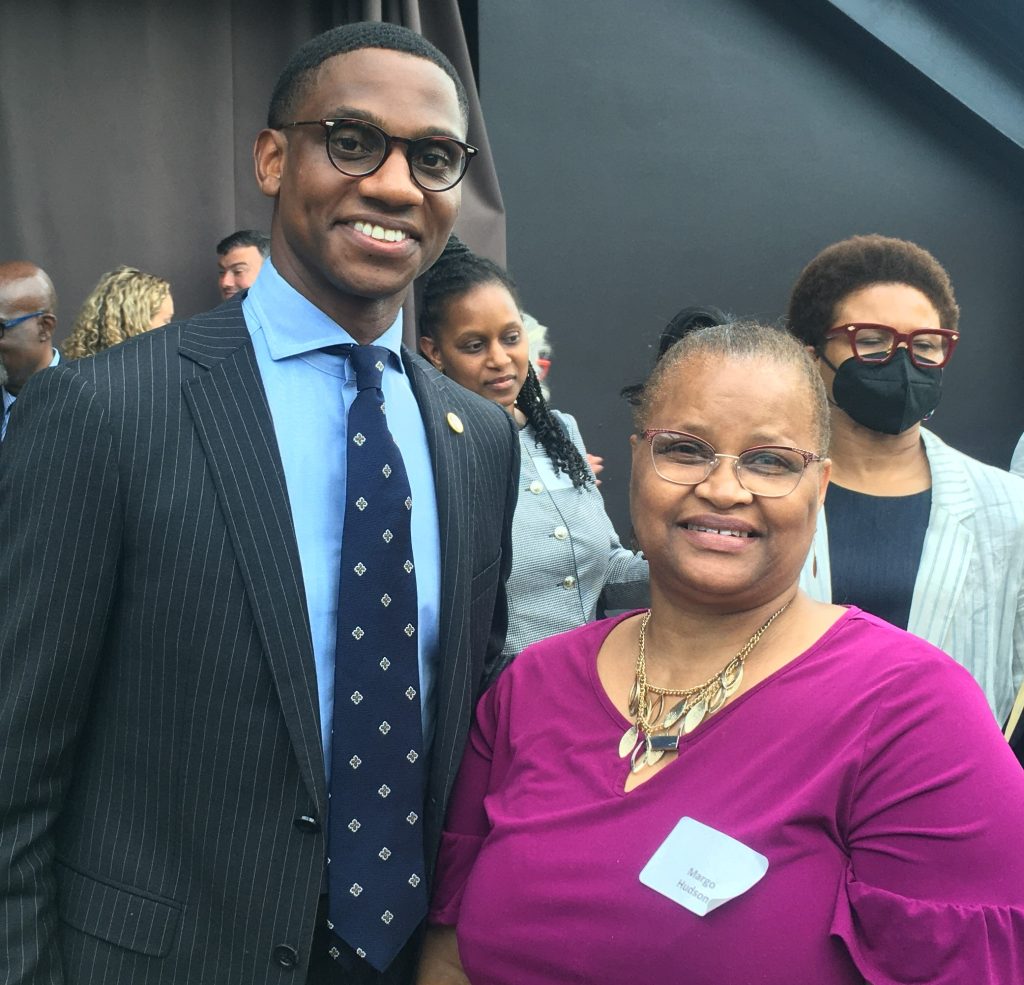 January 2023 : Library of Congress Center for the Book (Ohio Affiliate) – Margo Hudson was featured on a podcast about illiteracy rates in Cleveland and her journey. Her interview begins at 6:18.
January 2023: Euclid Observer – Check out that bus!
November 4, 2022: Cultivator Impact Award Recipient at Thrive!
April 15, 2022: Honoring Margo Hudson as a Difference-Maker
December 6, 2021: Adult Literacy Expands: Margo Hudson First Community Literacy Fellow
March 24, 2021: Interviewed by WKYC for "How the Stay-At-Home order impacted Ohioans – 1 year later"
June 18, 2019: Margo Hudson Honored by Who's Who in Black Cleveland 2019
May 15, 2019: Margo Hudson Provides Testimony to Ohio Senate Higher Education Committee
November 29, 2018: After Earning Her GED at 52, Margo Hudson Now a Nationally-recognized Tutor
September 21, 2018: CreativeMornings Cleveland: Chaos Featuring Margo Hudson (her presentation begins at 17:55)
August 2018: Introducing Cleveland's Place.Makers
April 26, 2017: On Capitol Hill for Adult Literacy
January 17, 2017: Margo Hudson Named One of Cleveland's Most Interesting for 2017 by Cleveland Magazine
November 21, 2016: Video: WKYC Profiles Seeds Grad and Tutor Margo Hudson
July 21, 2016: Seeds Grad Margo Hudson Gives Pledge of Allegiance at RNC in Cleveland
April 21, 2016: Margo Hudson Accepts Outstanding Adult Learner of the Year Award
April 7, 2016: Gov. John Kasich Presents Cleveland Tutor with Governor's Courage Award
March 11, 2016: Commission on Adult Basic Education (COABE) Names Margo Hudson Outstanding Adult Learner of the Year
---
---
What Others Have to Say
"Mike and I got to know Margo at the United Club from our travels between Cleveland and Houston. It was like watching the metamorphosis of a butterfly….before the GED to her accomplishment of it. You don't need me to tell you how she came out of that cocoon and what she's done since ̶ she really used those wings to soar. Margo is the resulting flower of the seeds that Seeds of Literary has planted, and I can already see how she's sewing her seeds for the next season's garden. Nothing is more important than education and Mike and I are proud to say we know Margo and support Seeds of Literacy."
~ Sincerely, Kate and Mike Owen
---