March 11, 2016
Seeds Grad Margo Hudson Wins National Award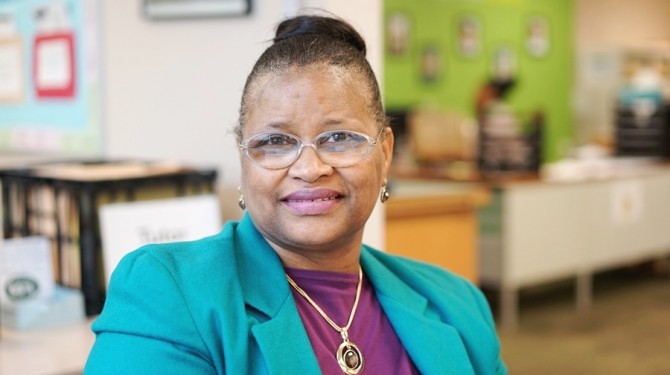 We are thrilled to share that Margo Hudson, a 2012 Seeds of Literacy grad, will be named the Adult Learner of the Year by the Commission on Adult Basic Education at their national convention on April 11th in Dallas!
We first met Margo as a student, then knew her as a volunteer tutor, but always she was a friend.
Margo showed incredible perseverance and optimism while she attended Seeds for 11 years. When she passed her GED® test on her 6th attempt, her joy was shared by everyone at Seeds from students to staff. Since then, Margo hasn't stopped learning — and even tutors twice a week at Seeds! She's also been an amazing ambassador for Seeds and adult literacy.
"Before I got my GED, I didn't feel like I had anything to offer people," Margo shares, her eyes swelling with tears. "When you don't have a high school diploma, you feel like you don't know anything. You might actually have those things, but you don't feel that way.
"Once I started working at the airport cleaning planes, that really made me want to go back to classes. There was a lot of rushing around at that job, and being out in the elements, and I knew I didn't want to do that the rest of my life. I knew it was time to go back to school and really take it seriously."
Earning her GED credential opened up a world of possibilities for Margo. "After I earned my GED, I started feeling better about myself. I started doing more, venturing out, learning more. I took on a lot of new projects, like music class. I started making chocolate. I started knitting, and taught my coworkers how to knit. I started reading more.
"Life just looked different to me once I got that GED. It made me take advantage of different things that I never took advantage of when I didn't have my GED. It gave me a new outlook on life, and my self-esteem rose. I tried a lot of new things, and a lot of new challenges."
The new challenges keep coming, and Margo dives into them with delight. "Right now, I'm taking keyboard lessons," Margo says, her enthusiasm shining. "That was something I always wanted to do. Before you have your GED, you have these dreams, but you have so much other stuff on your plate that you never get to that. Now I concentrate solely on my music, and I put a lot of time into it. I love it! It's the second best thing I could have done, after earning my GED."
As much as Margo has been doing more for herself, it's just as important that her new endeavors include helping other people.
"I also wanted to give back. Being a student and learning myself, I just wanted to give back to Seeds of Literacy. I was blessed by the program, and I want to give that to others as well by volunteering as a tutor."
As a Seeds alumnus, Margo has a unique perspective in volunteering. "I always let the students know I was a student before I was a tutor. Having been a student yourself teaches you to be patient with the students. You've been there."
Being on the other side of the tutoring relationship also brings new discoveries for Margo. "Being a tutor, I'm still learning as well. Even things I worked on before, I'll go home and research the lesson so when I see the student the next class session, I'm able to explain it to them."
All of her time at Seeds made a deep impression on Margo. "I'm forever grateful for Seeds of Literacy for helping me. That's why I spread the word, because it helped me and I know it can help others, if they apply themselves as I did. You just have to be determined and persevere."
Margo knows that perseverance isn't always easy, but it's necessary to achieve the life you want. "One of the students came to me this morning and asked how long it took for me. They were feeling discouraged," she shares. "I told them, there will be opposition, you might cry some, but keep going. It will pay off in the end."
As Margo knows, there's endless value in learning even after the GED test is passed. "Being a lifelong learner is very important," she says emphatically.
"One of my customers at the airport always told me, 'It's a big world out there, more than we imagine.' We can learn something from everybody that we encounter in life, something you didn't know about before. There's so much to learn, so much knowledge out there. I definitely encourage people to keep learning. You've got to get out of your comfort zone, even if you're just trying something. Keep learning. Give back."
As a lifelong learner, Margo also teaches an important lesson simply by being herself: never stop learning, never stop doing, and never stop giving.
Would you like to inspire adult learners like Margo? Learn more about volunteering with Seeds of Literacy, or make a donation to support lifelong learners.