November 10, 2022
2022 Thrive! Honoree a Champion for Adult Literacy [PHOTO/VIDEO ESSAY]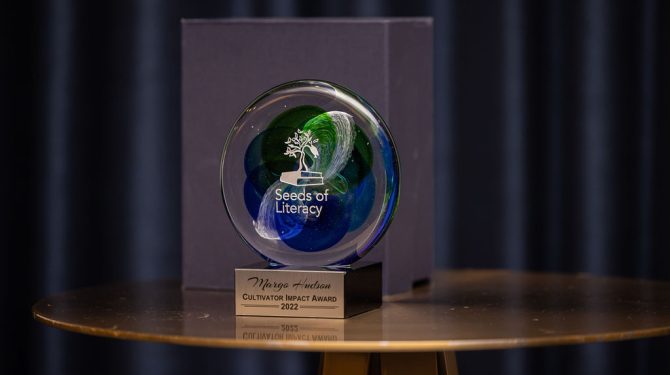 She's going to need a bigger table. That was the unanimous decision at the 5th Annual Seeds of Literacy Thrive! event November 4, 2022, where more than 180 guests filled the ballroom at the Crowne Plaza Playhouse Square.
This year's honoree, MARGO HUDSON, had a section of the room dedicated to her success since graduating from Seeds. It was adorned with newspaper clippings, framed letters from Governor's Kasich and DeWine, along with the Governor's Courage Award, photos of her with celebrities and local government officials, and a letter from President Biden.

Margo Hudson signs her emails "With delight" – a phrase that perfectly sums up her sunny, hopeful, positive, and energetic personality. She pursued her GED at Seeds of Literacy for eleven years, and took the test six times before passing – a true testament to her perseverance.
Since graduating from Seeds in 2012, she's been a tireless advocate for adult literacy, sharing her story at homeless shelters, food pantries, health fairs, library events, and at Cleveland Hopkins Airport, where she works.
It was "with delight" that Seeds presented her with this year's Cultivator Impact Award. Margo's former tutor (and inaugural Cultivator Impact Award recipient) Bill Litzler stood from the audience to say a few words.
With tears of pride in her eyes, President & CEO BONNIE ENTLER introduced her, announcing that Margo isn't just a former student and volunteer for Seeds. She's also become a personal friend.

Following the event, benefactor ticket-holders and sponsors had a champagne reception to toast Margo.

VOICES OF LITERACY
To help guests understand more about adult education, additional speakers shared how literacy is impacting their own lives.
Current student DELILAH BROWN shared how she spent most of her life caring for her family. Three years ago, she made a vision board with goals that make self-care a priority. One of those goals was "Get your GED." Those three simple words were heavier than she expected, she explained. It had been more than 30 years since she so much as picked up a textbook, but she enrolled at Seeds. She's now a 3-section passer who intends to take the final section soon.
DR. JOSEPH DAPRANO has partnered with Seeds of Literacy for more than a decade as an Assistant Professor of Internal Medicine and Pediatrics at MetroHealth and Case Western Reserve University's School of Medicine. Without warning, he opened his presentation speaking for several minutes in Melanesian Pidgin, the language spoken in Papau New Guinea. The audience listened, clearly confused. But no one said "I can't understand." Some patients are intimidated by white coats, and are too embarrassed to admit they don't understand what the doctor is saying. His point was made. This is part of a demonstration he gives his first-year med students to illustrate the impact of literacy on healthcare.
PLANES, TRAINS, AND AUTOMOBILES: A CALL TO ACTION
At the end of the event, Chairman of the Board JONATHAN KHOURI invited Virtual Coordinator TODD SEABROOK to the stage.
Seeds of Literacy doesn't shy away from the barriers that our students face – whether that's childcare, housing issues, work schedules, or transportation issues.
Todd asked the audience to think about how each of them arrived at the event that day: did they drive themselves by car? Did they take an Uber? Or, he teased, perhaps they arrived by helicopter?
Then he shared the cost of a bus pass: $2.50 one way, $5 round-trip.
Cleveland's RTA seems relatively inexpensive to go downtown and catch a Guardians game or a show at PlayHouse Square for a special occasion. But the cost of taking the bus EVERY time you go ANYWHERE adds up. "And some of our students take three buses just to get to class," he explained. "When we reach out to students to find out why they haven't been to tutoring, it's not uncommon to hear that the student had to choose between food and bus fare that week."
Todd then challenged the audience to do something about it – help Seeds purchase bus passes to eliminate at least one barrier for our students. That call to action will enable Seeds to purchase nearly 1,300 bus passes!
The event itself is estimated to have raised more than $90,000 for general operating expenses.
MORE SPECIAL GUESTS

This year marks the 25th anniversary of the founding of Seeds of Literacy by the Congregation of St. Joseph's Sister Kathleen Kilbane. She attended the event with Ann Gannon (far left) who was one of the original site coordinators for Seeds! They are pictured with Margo, President Bonnie Entler and VP of Programming Dr. Carmine Stewart

Former Senator and current Seeds' supporter Sandra Williams was in attendance, as was County Executive-Elect Chris Ronayne, Councilwoman Jasmine Santana, Chairman Khouri's brother Rustom, and Fr. Raymond Guiao from St. Ignatius

###klk
Photography provided by Victoria Stanbridge Photography