March 02, 2023
Alumni Check-In: Her Second GED: Keeva Long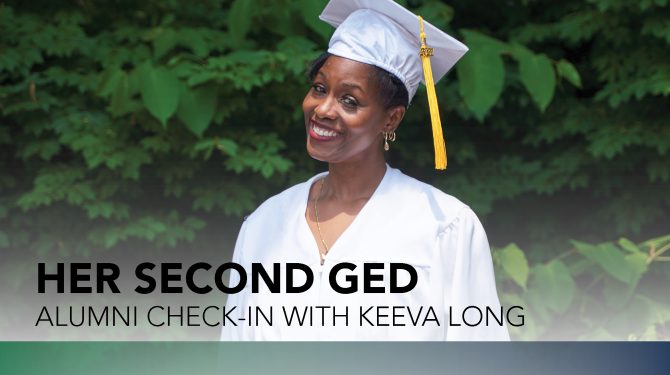 "I know loss," 2021 graduate Keeva Long said. "I buried babies. I grew up in public housing. I have a felony." But she overcame, and wants others to know that they can overcome, too.
If those challenges weren't enough, Keeva was shot three times, an uninvolved bystander in a drive-by-shooting in 2009. She was paralyzed and had to learn to walk again.
"I wanted to succeed not in spite of these things, but because of them," she said. She used them to make her better, not to be the reasons she failed.
IDENTITY FRAUD
The now-47-year-old became a mother at 16. She didn't want to live off of government assistance with a child, so she left school to work. Another child and several years later, she earned her GED in 1996.
Keeva applied for college and financial aid nearly a decade later. It was because of those applications that she learned she was a victim of fraud. After she first earned her GED, the number was used to obtain financial aid and general identity information on the West Coast. There were too many complications and too much red tape and she was told getting another GED was the best way to start over.
She then saw a sign in a window on Kinsman: Free GED.
A HOME AT SEEDS
Keeva gets emotional when she remembers here first few days with Seeds. "I was embarrassed, I thought I was too old and couldn't handle it. But as soon as I walked in, I was greeted so warmly and welcoming," she said.
She quickly realized there were students older than her, and that the attention she received was individualized. "Every time I think about it, I get chills," Keeva said. "There was someone to help me. One-to-one. They were VOLUNTEERING to help ME! They didn't see me as a failure!" She met doctors, lawyers, construction workers, and educators, all volunteering as tutors.
This site is located in what Keeva calls a blighted area, but it impressed her that the volunteers still showed up for her – for all of the students.
"This program was designed to help you win and not feel bad," she continued. "Someone is always saying 'let's do it.'" She appreciated the encouraging family atmosphere.
Keeva preferred learning in the classroom, so when COVID hit, she was tempted to give up. Fortunately, she had another graduate to inspire her: Margo Hudson.
"I kept Miss Margo's pamphlet right where I could see it every day. If she could do it, I could certainly do it. When I wanted to quit, I looked at her picture." Now, she volunteers as a literacy ambassador at Farmer's Markets with Margo.
THE FUTURE
Keeva is in her 3rd semester of college and will switch to Cleveland State for her bachelor's soon. She's in the urban development program, but has additional aspirations.
She refuses to be defined by her past and wants her story to inspire others.
"I want all the young people to know that they can overcome their background," she said. "They have to want it."
She believes that people don't realize what she has been through and what she has overcome because she wears nice clothes, has a job, and a nice car. "But I shop at Goodwill," she said with a smile. She knows what it's like to struggle.
"Every brick that was thrown at me, I used it to build steps, a ladder up," she said. "You take life by the horns or give up, and I'm not letting anyone give up."
###KLK