July 03, 2020
Graduation During Social Distancing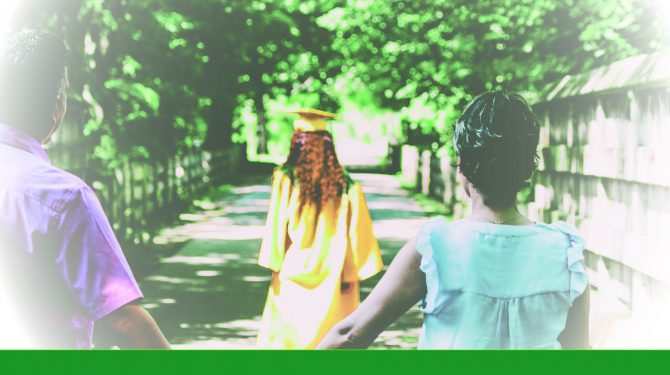 Unlike previous years, the Seeds of Literacy 2020 graduating class didn't have a huge party. There was no processional march of smiling grads, cheered on by proud family members as they entered the room. There was no stage with slightly uncomfortable chairs. There were no high fives, handshakes, and hugs. No dinner, no decorations. Staff didn't scurry around the room making sure everything was 'just right."
Unlike previous years, COVID-19 closed the classroom doors in March and CDC guidelines limited gatherings in June.
But skipping Graduation was simply unthinkable. Seeds had to be flexible, and find an alternate way.
VIRTUAL CELEBRATION
The ceremony was a bit shorter, fewer people attended, but a celebration was held on June 24 when Seeds of Literacy took Graduation online.
More than 60 tutors and family members logged on for a presentation recognizing the achievements of the 71 adults who passed their high school equivalency tests during the 2019-2020 fiscal year.
"Even though we aren't able to celebrate the way you deserve, we want you to know we are proud of you," said President & CEO Bonnie Entler in her address to graduates. "Earning your GED is not an easy feat. Some of you have braved many personal challenges and losses, and still, you did not give up on your goal."
Incredibly, three of the graduates — Cynthia Suzrez, Courtney Moore, and Kaitlin Wolfe — completed their final exam DURING the COVID-19 pandemic, traveling more than an hour to the few test centers that remained open.
A SHARED MESSAGE
Speakers for the evening included Site Coordinators Chris Richards and Kara Krawiec, as well as tutor Susan Tatom.
"As you move forward in your journey, please know that we go with you," Kara emphasized. "We are a family here at Seeds and you'll always have a home with us."
"It really does feel like everything is turned upside down, but some things have been the same," Chris said. "You now join the ranks of the hundreds of other Seeds graduates. You share an accomplishment, and share in the joy of what you've achieved….as you move forward, I want to thank you for being part of the Seeds of Literacy family."
Representing Seeds 200+ volunteer tutors, Susan agreed. "We wanted you to know from the start that if you were willing to take this on, then we were in it with you…We sat next to you while you pushed yourself, when the subject was hard. We watched how you persevered. We cheered you on..and shared your pleasure when you mastered [a subject]."
She also confided, "You may not know this, but we tutors have learned a lot from you. Every day you set an incredible example of motivation, in spite of challenges, of setting a goal and seeing it through, no matter what."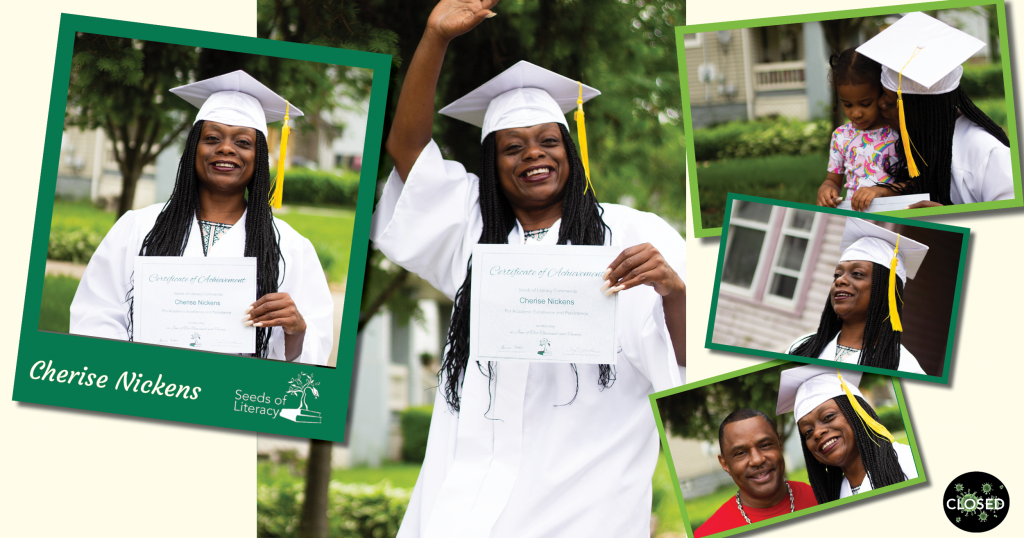 TWENTY YEARS LATER, A DREAM REACHED
The start of the evening was graduate Cherise Nickens. Since 1999, she struggled to earn her GED, taking it twice, but never passing all of the sections. That changed when she walked through the doors of Seeds East in 2019.
"I quit my job and put everything on the line to go for it," she said. "Change is hard and difficult, but I knew I had to get in there and do it."
Cherise never felt alone at Seeds. "Every time you turn around, there was literally someone there offering to help. It was so warm and kind and there's just no way to say no. There was no excuse for me to leave."
You can watch the entire 30-minute ceremony, with complete speeches, here:
# # # KLK
RELATED READING
Seeds of Literacy classrooms remain closed as a result of COVID-19, however, FREE TUTORING by telephone and video are still available. CLICK HERE to learn how to enroll as a student during COVID-19.