July 02, 2021
Seeds Celebrates Large GED Graduating Class, Despite Classrooms Being Closed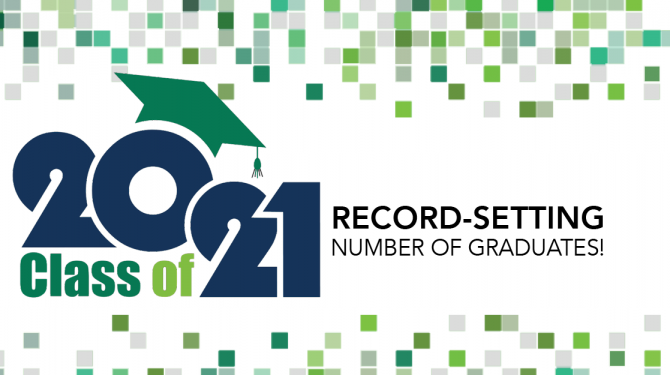 On June 23, Seeds of Literacy did something the staff hopes to never have to do again: celebrate the graduating class virtually. But what they wouldn't mind repeating is the number of graduates — 94 adults in the last 12 months! In fact, it's one of the largest graduating classes since 2014.
"Even more remarkable than the size of the class are the circumstances in which these adults completed this monumental achievement," said Vice President of Programming Carmine Stewart. "COVID-19 brought the world to a halt, and sectors of the economy to its knees, decimating on-site learning for all. But that didn't stop these adults from reaching their academic goals."
Seeds of Literacy's physical classrooms were closed for more than 15 months and students had to adapt to online learning.
GRADUATES FROM NEAR AND FAR
"Their resilience comes from the very challenges that they've faced their entire lives," Dr. Stewart continued. "The pandemic was just one more barrier in a long list of barriers they've had to overcome. And they weren't going to let this one stop them."
Tachonna Frisco was one of those students.
"Before the pandemic, Tachonna was a constant bright presence in the classroom," said Kara Krawiec, Site Coordinator at Seeds East. "When the pandemic hit, Tachonna was one of our very first in-person students to try the Virtual Classroom."
"I had such a hard time believing I passed, but I did!," Tachonna said. "I graduated! Twice this year, actually. After getting my GED, I went on to VIP Dental through Premiere Smiles – it was an 11-week program and I am now a dental assistant."
[VIDEO 6:50]
Of the 94 graduates, 20 are a unique subset, having found Seeds online, enrolled online, participated online, and finally graduating — without ever stepping foot inside the physical classroom. Some even live outside of Northeast Ohio. Seeds refers to those students as the "Class of COVID".
"The all told us the same thing," said Melina Lindsey, a Virtual Site Coordinator at Seeds. "They've been looking for a program like Seeds, but couldn't find it where they live."
Students from 25 states — and tutors from across the US and several countries — have Registered for the Virtual Classroom.
One of those students was 34-year-old Jeff Bohannon, who logged into class from his home in Georgia, three times a day, four days a week.
"Soon after joining, I began to realize just how awesome Seeds really is," he said. "Achieving that GED has been the greatest accomplishment in my life."
[VIDEO 5:19]
MEDIA FRIENDS PROVIDE KEYNOTE ADDRESSES
Reporters Harry Boomer (19 Action News) and Jade Jarvis (News5 Cleveland) addressed the graduating class of 2021.
Boomer has been a long-time supporter of Seeds, showcasing what the program has to offer for nearly a decade. Jarvis is a new friend to Seeds, and began her coverage of the program when it went virtual at the height of the pandemic in 2020.
[VIDEO 4:54]
[VIDEO 3:45]
PRESENTING…THE CLASS OF 2021
"The highlight of my year is always the Graduation Ceremony," said Bonnie Entler, President & CEO of Seeds. "The entire staff loves watching the graduates walk across the stage in their caps and gowns, meeting the families, and enjoying a meal together."
"But this year's ceremony was just beautiful," she continued. "Somehow, it was just as special. We didn't have to limit our guest list due to space, and it seemed like more grads were able to join us. Some wore their caps and gowns during the Zoom presentation! I'm so proud of their achievements."
[VIDEO 1:00]
# # #KLK