September 09, 2021
Seeds Named One of the Recipients of Library of Congress 2021 Literacy Awards on International Literacy Day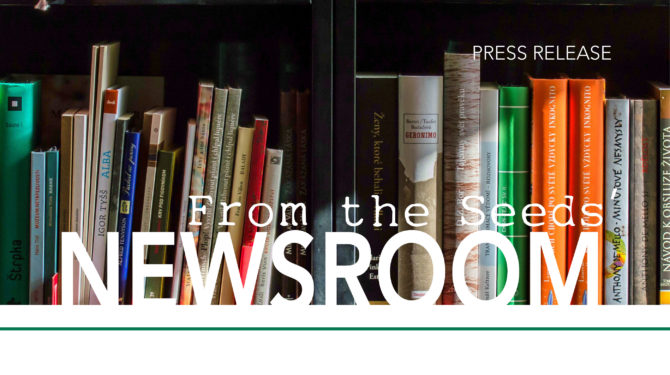 Three organizations working to expand literacy and promote reading will be awarded the 2021 Library of Congress Literacy Awards, Librarian of Congress Carla Hayden announced September 8, 2021.
Top prizes are being awarded to Dolly Parton's Imagination Library, the Parents as Teachers National Center and the Luminos Fund.
Fourteen additional organizations, including Seeds of Literacy, will receive Best Practices awards for furthering literacy initiatives.
The Literacy Awards, originated by David M. Rubenstein in 2013, honor organizations doing exemplary, innovative and replicable work. The awards recognize the need for the international community to unite in achieving universal literacy.
"Literacy develops the mind and the heart, engages the intellect and imagination, and builds wide-ranging knowledge of the world," said Librarian of Congress Carla Hayden. "Through the generosity of David M. Rubenstein, the Library of Congress is proud to honor and celebrate the achievements of these extraordinary organizations in their efforts to advance literacy and enable people to survive and thrive in the world."
Best Practices Awards
The Library of Congress Literacy Awards Program is honoring 14 organizations for their implementation of highly successful practices in literacy promotion. These honorees, recipients of $5,000 each, are:
Seeds of Literacy, Cleveland, Ohio
Associates in Research and Education for Development (ARED), Dakar, Senegal
Barbara Bush Foundation for Family Literacy, Washington, D.C.
Books for Kids Foundation, New York, New York
The Citizens Foundation (TCF), Karachi, Pakistan
Global Center for the Development of the Whole Child, Notre Dame, Indiana
Friends of Tonga, Inc., Laurel, Maryland
FunDza Literacy Trust, Cape Town, South Africa
Institute for the Study of Adult Literacy, University Park, Pennsylvania
The Learning Source, Lakewood, Colorado
Literacy Connects, Tucson, Arizona
Literacy Minnesota, Saint Paul, Minnesota
Raising a Reader, Milpitas, California
VALUEUSA, Media, Pennsylvania
---
Additional information on the awards and previous winners, as well as an interactive program map are available at read.gov/literacyawards.
David M. Rubenstein is the co-founder and co-executive chairman of The Carlyle Group. He is a major benefactor of the Library of Congress and the chairman of the Library's lead donor group, the James Madison Council.
The United Nations General Assembly designates a number of "international days" to mark important aspects of human life and history, including International Literacy Day on Sept. 8. For more information on International Literacy Day, visit: https://en.unesco.org/commemorations/literacyday.
The Library of Congress is the world's largest library, offering access to the creative record of the United States — and extensive materials from around the world — both on-site and online. It is the main research arm of the U.S. Congress and the home of the U.S. Copyright Office. Explore collections, reference services and other programs and plan a visit at loc.gov; access the official site for U.S. federal legislative information at Congress.gov; and register creative works of authorship at copyright.gov.
###