November 01, 2020
Virtual Tutor Wins Most Treasured Volunteer Award from Community Solutions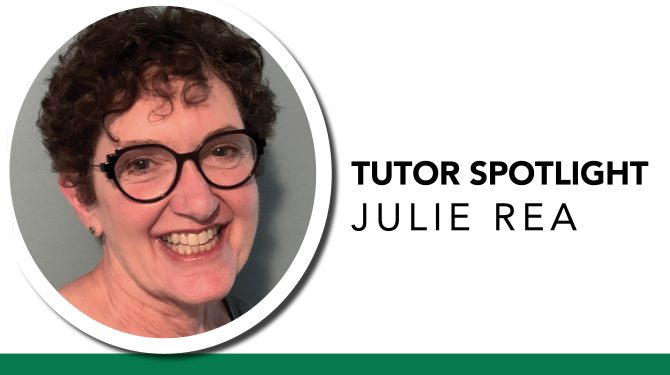 Julie Rea was excited to become a tutor and a simple Google search brought her to Seeds.
"I think working with a student one-to-one, where you can really understand what they need to know — and how they learn— is incredibly effective," she said.
But Seeds closed shortly after she completed Tutor Training. She never had a chance to tutor onsite.
Still, Julie Rea has become a household name for students and staff alike. Determined to make a difference, she was one of the first volunteers willing to tutor virtually and was a pioneer in the Virtual Classroom, eager and available to help.
Technology has proven to be a difficult adjustment for many students and tutors. But Julie was a champion of virtual learning and her enthusiasm encouraged others tutors to participate. Her comfort with technology puts students at ease and she is able to troubleshoot any tech difficulties that arise during lessons.
She developed and presented more than 20 lessons which are now available in the Seeds archives for students to review at any time. The majority of them cover math concepts.
"My goal is never to let another person believe that they are just not a 'math person,' because math makes sense!" she declared. "It is a useful tool. I want everyone to know that they can learn math, and use it in their daily lives!"
Like Seeds, Julie sees education as a social justice issue.
"I believe that the adults who turn to Seeds for help have been failed in the past — poorly served, overlooked, forgotten — by an education system that has refused to change or adapt to the students in its care. Whatever small part I can play in helping someone overcome this neglect, I believe I need to do it."
"She has proven to be a real treasure and we thank her for the enormous impact she has made in such a short time," said Site Coordinator Chris Richards. "She's not just willing to help whenever she's needed, in any capacity, but she is also exceptionally good at explaining difficult concepts — both educational and technological."
Julie's efforts at Seeds during the pandemic, and her deep respect and empathy for the students, earned her a Most Treasured Volunteer award from The Center for Community Solutions. The virtual presentation was held October 23. You can view it here.
Seeds is lucky that a Google search led her to us.
Join us in congratulating Julie, and all of our Virtual Classroom tutors, who have made this transition possible!
# # # KLK