October 22, 2021
Finding the FUN: Why Ed Tutors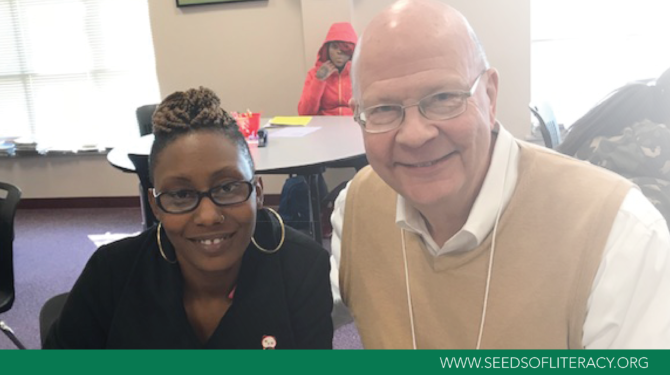 ~ From the Law to Leadership: Finding the fun in learning ~
---
UPDATE: October 22, 2021 – The Center for Community Solutions recognized Ed Round with a Most Treasured Volunteer Award. Ed was with us during the launch of our beginning reader program, the closure from the pandemic, and while we initially fumbled our way through early remote learning. He was a regular in the Virtual Classroom, and now he's back on site where we need him the most. Thank You, Ed!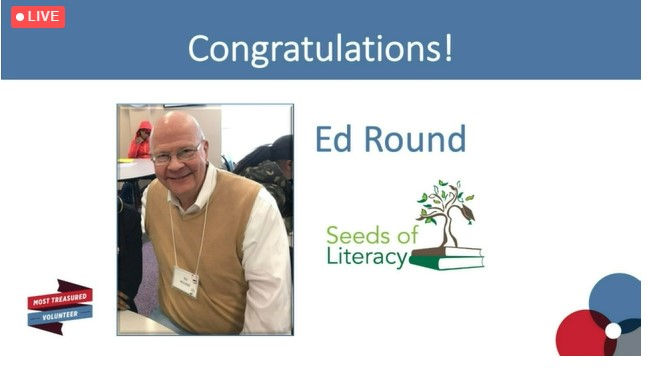 ---
[Originally published November 4, 2018]
Ed Round is a tall man with a deep voice. He has an authoritative presence and is fiercely passionate about what he does.
These traits served him well in his legal career of more than thirty years. Half of that time he worked for the federal government in the anti-trust division of the U.S. Justice Department. The other half of his career was spent as an administrative law judge, hearing disability cases on appeal.
When he retired in January 2015, he saw an ad in the church bulletin about Seeds of Literacy. "I've always like teaching people stuff…maybe that would be fun!" he said to himself at the time. The rest is history.
The very traits that make Ed someone most people wouldn't want to go up against in court, are the same ones that make him a student favorite in the Seeds classroom. They trust him.
Ed finds himself tutoring Math the most, but if it were up to him, he'd tutor Social Studies. Why? Because he believes it is harder than Math. "There's only one right answer in Math. Social Studies is more open for discussion and comprehension. I've had some college-level discussions with Seeds students about Social Studies!"
AN UNLIKELY DUO
Ed formed a bond with student Erica (pictured above), a young woman who graduated from high school, despite having only a second-grade reading level. Sadly, she's not the only student to come to Seeds with a diploma, but without the education that should accompany it.
"It's absolutely criminal," Ed stated. "The school told her she was dyslexic but she really just struggled with vowel sounds. Here, she's making huge strides!"
Like many adult educators and students, Ed has been frustrated with the lack of materials for adults learning how to read. Most materials are for children, with child-appropriate topics. Adults who are already self-conscious about their reading level feel even worse with these materials, he said.
But Ed found a solution for Erica — City Stories. The book is written for beginning reader adults, featuring diverse characters, dealing with adult storylines. Each short story is progressively more challenging than the last.
"She's so far in the book because she enjoys it that much. We love it," he said. To build fluency, Erica reads a passage, Ed reads a passage, and then she reads the same passage.
Ed is currently working with Seeds Program Director Carmine Stewart and other volunteers to launch a beginning reader program to help more students like Erica.
BOOK CLUB BONDING
"One of the things I like about Seeds is that the staff smiles," Ed said. "That's not true at a lot of places. People are so serious. At Seeds, people are professional, and they take their jobs seriously. But they are also SMILING. That's rare."
And, the one with the biggest smile, he says, is Site Coordinator Kara, who started a weekly Book Club.
"Book Club is more fun than you should be allowed to have learning stuff," Ed said laughing, and credits Kara for the group's success. "I've seen the members grow. Everyone reads aloud and they are becoming better and less self-conscious. They are more willing to share their ideas and are more confident about saying what they think when they otherwise might have been quiet."
LEADERSHIP
Ed isn't just an original member of the Book Club, he's also a tutor member of the Student Leadership Group.
"This program is so great for our students because it gives them a sense of ownership over the Seeds program. Seeds isn't just a place to them, it's a place they are part of," he explained. With help from other volunteers, students learn brainstorming, planning, follow through, and feedback. "These are all important job skills that they wouldn't be exposed to in a traditional school," he said.
This year, the Leadership Group focused on outreach to recruit more students. With tutors like Ed, students have attended community fairs to promote Seeds. He's seen this increase their confidence and critical thinking skills.
"Every job is about solving problems," he said. "It doesn't matter if you're a heart surgeon or you're digging a ditch, you're solving a problem. And that's what Student Leadership Group is teaching them – those problem solving skills."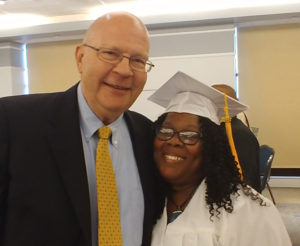 A FAMILIAR FACE FROM ORIENTATION TO GRADUATION
Ed sometimes speaks at new student orientation. He wants new students to see a familiar face when they return to Seeds for their first class.
"Showing up for the first day of class is scary, particularly if you've been out of school for a long time and aren't quite sure what you're getting into," he explained. "That takes a lot of courage, and yet week after week, new students do it. It's not only good for them, but good for the community at large that they are brave enough to take that step."
When Ed talks about Seeds, he uses the word "fun" with abundance. And it's not for lack of a better word – it's because he genuinely enjoys coming to Seeds. Like most of our tutors, he loves attending Graduation in June. But he doesn't find joy in just that BIG celebration.
"Sure, Graduation is fun. But any success is fun. Celebrating a student passing a section is fun. It's fun because my student's happy, which makes everyone else happy," he said. "Celebrating even the smallest successes is important."
"I have selfish reasons for being at Seeds…it's FUN for me. I'm here to have fun. But it's also really satisfying," he admitted. "Our students are hard workers. They want to be here. They want to learn. Our students are good people and they're fun to be around. We have a good time."
# # #
KLK
What else does Ed find fun? MUSIC.
• Plays electric bass at 3 masses each weekend at St. Dominic's
• Played guitar since high school, but didn't begin formal lessons until after the age of 60
• Plays in a classical guitar quartet for the Music Settlement
• Plays both guitar and bass in a piano trio that arose from the quartet
# # #
Come see for yourself just how much fun you can have tutoring! Seeds holds Tutor Trainings almost monthly. Sign up!