December 10, 2015
Seeds on "Kaleidoscope" with Leon Bibb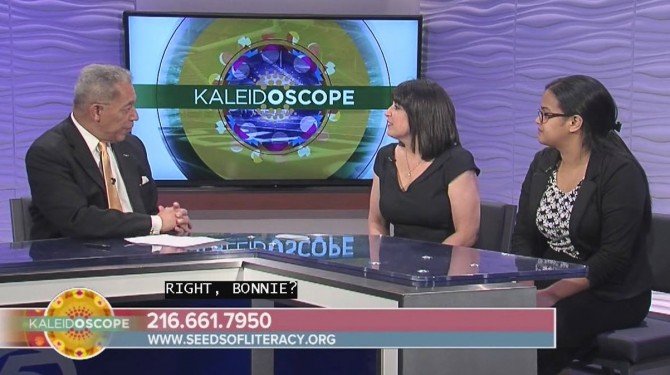 Seeds of Literacy's Executive Director Bonnie Entler and student Cristaly Martinez were guests on Kaleidoscope, a program that spotlights people making a difference in Northeast Ohio, to talk about the value of the adult education that Seeds of Literacy provides.
Hosted by Cleveland TV legend Leon Bibb, the segment included statistics about the 66% functional illiteracy rate among Cleveland adults, and Seeds of Literacy's efforts to inform our community of the dire illiteracy problem.
Mr. Bibb highlighted Seeds of Literacy's 66% "Empower our CLE" car window cling, which you can request for free here.
"This is the difference between winning and losing, isn't it?" Mr. Bibb said of education and the opportunity provided by Seeds of Literacy.
"I went from hopeless to having hope," Ms. Martinez said when Mr. Bibb asked her what coming to Seeds of Literacy has meant for her. "I went from feeling like a failure to having my hopes and dreams back."
You can watch the episode on the Kaleidoscope website.
The episode aired on December 6th on WEWS Channel 5.