March 23, 2018
Overnight In A Bookstore Proves Dreamy [PHOTO ESSAY]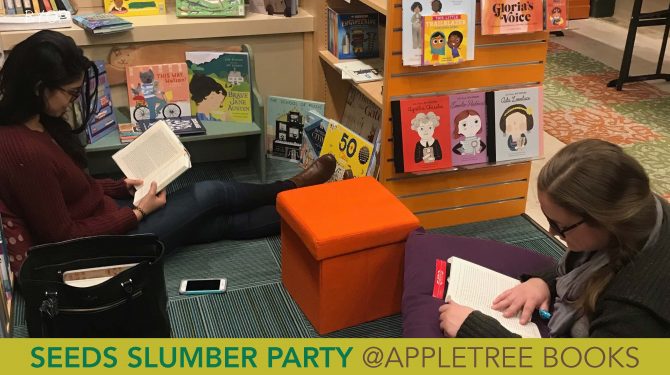 ~BYOP@Appletree Photo Essay Below~
On Saturday, March 10, Seeds of Literacy partnered with Appletree Books in order to make every bibliophile's dream come true: spending the night in a bookstore surrounded by thousands of books. Appletree Books' cozy environment and beautiful book displays made it the perfect place for 14 book lovers to spend the evening.
As attendees got settled into the space (and claimed their own special reading nooks for the evening), Seeds staffers Kara Krawiec (site coordinator) Billy Hallal (digital literacy coordinator) asked everyone to select reading themed cards from Lit Chat: Conversation Starters about Books and Life and answer questions ranging anywhere from "what book would you recommend for a broken heart?" to "what book/series do you think is highly overrated by critics?" Of course in a roomful of book lovers, this was a great way to get a discussion going and helped the group get to know each other as they prepared for their all-nighter.
After a round of Lit Chat, everyone dispersed to different corners of the stores in order to snuggle up with the book of their choice. Have no fear, though, those who came without a book in hand had the opportunity to purchase books at any time during the evening (in fact, browsing the shelves became a great way to wake up a bit around 3am).
Throughout the night attendees came together to take brief breaks from their books and played some word-friendly games such as Bananagrams and Mad Libs, which, as it turns out, becomes even more fun at 4am. While playing games, attendees were able to learn more about Seeds of Literacy's mission and how they can help.
They also had the opportunity to win prizes and enjoy some tasty treats because, as we all know, no slumber party would be complete without pizza and snacks. Attendees got to enjoy some delicious pizza from Vero throughout the night and those who survived till morning were able to watch the sunrise with pastries from Luna's Bakery the next morning.
Although a little tired, everyone walked out of Appletree Books with at least two things: a smile and a book.
# # #
KKrawiec
PHOTO SLIDESHOW! Click on the image below and scroll through for a short slideshow of our BYOP Event!