November 27, 2018
[PHOTO ESSAY] Inaugural Thrive Luncheon Promotes Student Success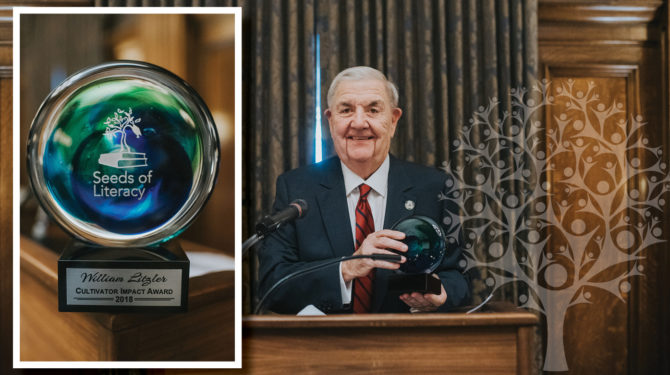 On Friday, November 9, Seeds of Literacy launched a new signature event, Thrive!
Thrive!, a weekday luncheon, congratulated both student success and stakeholder impact, all while recognizing the first recipient of the Cultivator Impact Award: William "Bill" Litzler.
"For seventeen years, our Sowing Seeds of Hope brunch and auction served as our largest fundraiser," said Development Director Jo Steigerwald. "It was certainly enjoyed, but like all good events, it was winding down and we wanted to end it on a high note. Last year's Pure Imagination Willy Wonka theme was a sweet finale for a longtime tradition."
The new format was necessary to engage new audiences. More than 160 attendees gathered at the Cleveland Union Club to show their appreciation for Bill, and learn more about the Seeds program.
"Bill was selected as the inaugural recipient without any hesitation," said Executive Director Bonnie Entler. "He has been a tutor for many years, a generous donor, a charismatic event host, a trusted advisor, and an advocate for our program."
The event featured student speakers Aneka Monday and Valerie Taylor, Alumna Charneil Daye, and tutor Margo Faulhaber, culminating in a very special introduction to Bill Litzler. The highlight of the event was a surprise tribute video, featuring Bill's friends, family, and former students. To watch, scroll through our photo slideshow and then click the video link.
The event raised $67,000 to support student instruction at Seeds.
# # #
[TO VIEW THE PHOTO ESSAY: Click and continue to scroll slowly. Photos will not advance on their own.]
###
KLK