July 12, 2023
Record-Breaking Number of GED Grads During Milestone 25th Anniversary Year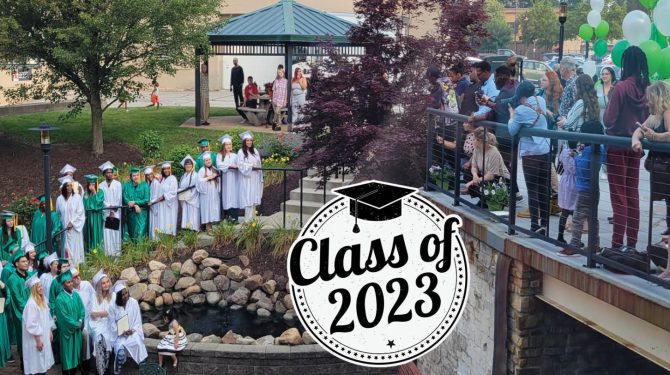 Just one month after our Silver Jubilee 25th Anniversary celebration, Seeds of Literacy capped off the milestone year with the largest graduating class to date.
Just hours before the end of our fiscal year, the final GED tester passed, becoming the 150th graduate! Nearly a third of the grads packed the house for the 2023 Graduation Ceremony in Cleveland, with even more streaming online.
"This year, we welcomed a record number of new students to our classrooms and it's only fitting that we bookend the landmark year with a record number of graduates," President & CEO Bonnie Entler said in her opening remarks.
The audience erupted in applause and cheering as the grads processed to their seats.

Watch the Processional (1:47)
Speakers Captivate Audience
More than 10 years after graduating from Seeds of Literacy, alum Dustin Passalacqua took the stage again, this time as a Keynote speaker. He now runs a successful mortgage practice and focuses on financial literacy with the goal of helping his clients borrow smart and build wealth with real estate.
Watch the KeyNote Address (6:00)
"Why am I sitting up here right now talking to you? Because each and every human is a genius. This has especially been proven not only in the education community, but the scientific community. We limit our beliefs on what we are able to accomplish. In the 1950s, it was known that if you ran a mile in under 4 minutes, your heart would explode. Roger Bannister proved that to be wrong when he defied perceived physics and recorded a time of 3 minutes and 59.4 seconds (May 6, 1954). Less than 2 months later, his record was broken. Why is that? We all have to understand that it is our self-talk – and sometimes the talk of others– that holds us back. We must break the cycle and realize that only inside lies the answers to propel you forward."
~ Dustin Passalacqua, Seeds Graduate 2013
Although Seeds of Literacy does not have a Valedictorian to speak, it does ask a graduate from all three classroom locations to speak to their fellow graduates.
Meet Ralph Hernandez (4:47)
"Coming back to school was difficult, but coming to Seeds of Literacy was well worth it. The students and the coordinators were all very positive, and the volunteer tutors were amazing teachers. Everyone at Seeds always treated me with respect, and they believed in me. With the help of Seeds of Literacy, I am now able to open the once closed doors of opportunity."
~ Ralph Hernandez, Seeds West Graduate 2023
Meet Santina Lauter (4:31)
"I went to the teacher in the fifth grade and I asked her for help and I'll never forget her words she said I have 32 students and I don't have time for just one.
…[At Seeds of Literacy] Don't get me wrong, I had my days when it was hard emotionally, and I didn't know if I could get through it. But the staff and tutors tell me 'Santina, you're smart, you can do this.' and guess what? I did it."
~ Satina Lauter, Virtual Classroom Graduate 2023
Meet Antoinette Jones (6:40)
"Seeds was a great opportunity because the hours were flexible and there was no pressure. And now we have online tutoring, too! But life throws you curveballs. After my first month, I had to put my education on hold again. Each time I came back to Seeds, I was pregnant and would have to leave again. Seeds welcomed me back every time."
~Antoinette Jones, Seeds East Graduate 2023

Writer Recognition
In addition to recognizing graduates, Seeds West Site Coordinator Chris Richards recognized student achievement beyond earning a high school equivalent. "There are many forms of success, and Seeds is lucky to have students with a wide array of talents and skills," he said, explaining that many are talented writers.
Graduate Pam Ford, Seeds East, saw some of her poetry published in a zine called Seeds to Grow.
For students Melissa Hill Nance and Denise Sanders, success this year meant applying to the yearly anthology called Beginnings, published by the State of Ohio to highlight interesting and evocative perspectives of adult learners from across the Buckeye State. Their work was selected as part of the 25th volume of the publication.
In Remembrance
Long-time tutor and Board Member Mark Yanochko took the stage to recognize a student who passed away this fiscal year. With tears in his eyes, he reflected on the many years he worked with Yvonne Dawson at Seeds West, recounting her transition to virtual learning at the height of the pandemic, her small but thoughtful way of recognizing his birthday, and the time she called out "Yo Mark!", when the pair bumped into each other at the local supermarket.
Tutor Appreciation
Virtual tutor Deborah Nadzam Melnyk and Seeds East tutor Kathy Patton were recognized with an Outstanding Tutor award for their warmth, patience, humor, knowledge, and dedication.
"We are truly fortunate as an organization to have so many thoughtful, caring, and dedicated volunteers, without whom we simply couldn't exist," said Virtual Site Coordinator Anne Cudnik. "We're thankful for every contribution, no matter how big or how small, that helps us support the students on their pathway to success."
###



Graduates will receive an email with instructions to order digital copies.