July 18, 2016
6 Must-know Adult Literacy Facts for the RNC in Cleveland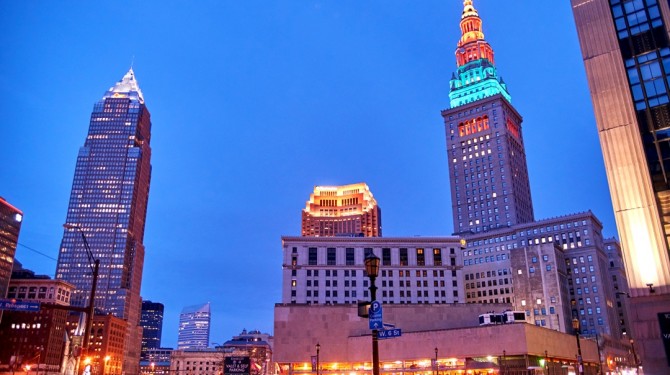 The national spotlight is on Cleveland as the Republican National Convention kicks off today. As we welcome delegates to our city that has worked so hard to reinvigorate itself, here are some key points about adult literacy in Cleveland, and how it can positively impact our city.
1. 66% of Cleveland adults are functionally illiterate.
When an adult's reading, language, or math skills rank in the two lowest literacy levels — like they do for an estimated 66% of Cleveland adults age 16 and over —  things like bus schedules, job applications, and medical instructions are extremely difficult to understand, much less make use of. Some Cleveland neighborhoods, like the Kinsman area on Cleveland's east side (near Seeds of Literacy's at-capacity site), have a functional illiteracy rate as high as 95%.
Consistently getting to a job on time? Helping kids with homework? Making healthy decisions? Increased literacy skills and resources help these adults become more able to help themselves, their families, and their communities.
2. Nearly a quarter of Clevelanders do not have a high school credential.
23% of Cleveland adults age 25 and older do not have a high school or GED® credential, while over 110,000 adults in Cuyahoga County do not have a high school credential or equivalent (and these figures don't even take into account all the young adults aged 18-24 who left school before graduating).
The economic repercussions of this are huge, for both the individual and the larger community:
An adult without a high school credential earns 42% less than adult with a diploma.
The unemployment rate for a person without a high school credential is 50% higher than for an adult with a diploma.
Low literacy skills cost businesses and taxpayers an estimated $20 billion annually in lost wages, productivity, and and profits.
(Sources: US Census Bureau, American Community Survey, 2010-2012 3-Year Estimates, compiled by The Center for Community Solutions, 2014; Ohio Literacy Resource Center; Bureau of Labor Statistics, 2012)
3. Strengthening adult literacy helps the education outcomes of children.
A mother's reading skill is the biggest influence on her child's future academic success, even more than family income and the neighborhood in which the child is raised.
Efforts to help children succeed academically need a strong foundation for literacy at home. While we look to children for the future, we need to also look towards the adults of today to ensure a multi-faceted approach to positive academic outcomes.
4. Low-literate adults in Cleveland want improved skills, for themselves and their families.
"It's more than the GED to me," said Cheila Dozier, a student at Seeds of Literacy. "I want to be educated." As we've seen again and again at Seeds of Literacy, improved literacy skills lead to improved self-esteem and a spark for continued learning, and often ripple through to positively affect a whole family.
It's a big deal that recent grad Yoko Ferrell can now help her kids with their homework. "We sit down together, spend time learning, and aren't afraid," she says. "I want to show my kids that they can do anything." Like Cheila and Yoko, adult education students want to make a change in their lives, and they work hard to do so.
5. Adult literacy is the missing piece to many social puzzles.
Whether eliminating poverty, lowering incarceration rates, improving healthcare, or increasing kids' academic success, adult literacy plays a pivotal but often overlooked role. Putting a focus on adult basic education is essential to ensure that Cleveland's hard-won urban renaissance is shared by all of its residents.
6. There is hope.
These statistics are dire and the need to improve them is urgent, but Cleveland is never without hope.
Programs like Seeds of Literacy, which helps about 1,000 adults from Cleveland and neighboring cities every year, are working hard with students, volunteers, and donors to improve literacy rates in our comeback city.
Together, we can see to it that every person can light the flame of opportunity through literacy and help Cleveland to shine even brighter.
Learn more about Seeds of Literacy and how you can get involved to improve lives through adult education.