September 01, 2015
The Importance of Adult Literacy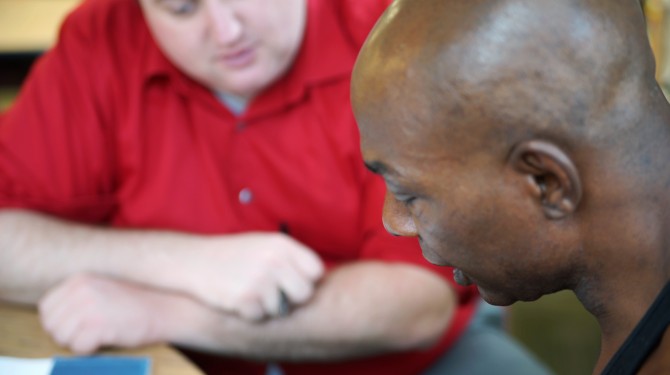 Given national and local conversations about education, it's pretty clear that our idea of education is almost exclusively linked to children.
When we imagine minds newly opened to levels of greater understanding, what we typically picture are children learning the foundational blocks of knowledge that build the complex world around us.
But often overlooked are the adults who, for a multitude of reasons, did not gain this foundation in their youth, and who are now navigating the world without vital literacy skills.
They need to learn, too, and their education matters.
43% of adults 16-years and older read at or below the basic level. Their skills are limited to understanding short, simple texts and one-step math problems at best.
They struggle to find employment.
They struggle to help their children with homework.
They struggle to understand a bus schedule, instructions on a bottle of medication, and nutritional information on a package of food.
This is because literacy means not only the ability to read, but the ability to read well, to process information and solve problems.
So if functional illiteracy is a void that consumes much more than simply the ability to read, then improved adult literacy will inversely have an enormous positive impact.
Many adults in this situation realize the need to be educated and are enrolling in literacy programs or are working toward earning their GED®, the positive effects of which overflow from their own lives to ripple through our society.
A person no longer stymied by understanding a job application will have the skills to not just find employment, but also retain employment. They'll be able to put food on their own table, provide for their families, and in turn strengthen our economy.
Improved literacy also results in more informed health decisions regarding nutrition and preventative care, which obviously benefit the individual but also create better health outcomes and lower healthcare costs for the nation as a whole.
And because a mother's reading skill is the most important factor when it comes to her children's academic success, helping an adult to become more literate now has the power to increase her children's success in the future, effectively breaking the cycle of low literacy and correlated poverty that plague our communities.
Adult learners, and the need for improved adult literacy, deserve our attention and efforts because these people deserve the opportunity not just to survive, but to flourish.
Their success is everyone's success.
Help eradicate adult illiteracy by supporting Seeds of Literacy. Donate today.