September 05, 2023
Visit from Cleveland Mayor inspires adult learners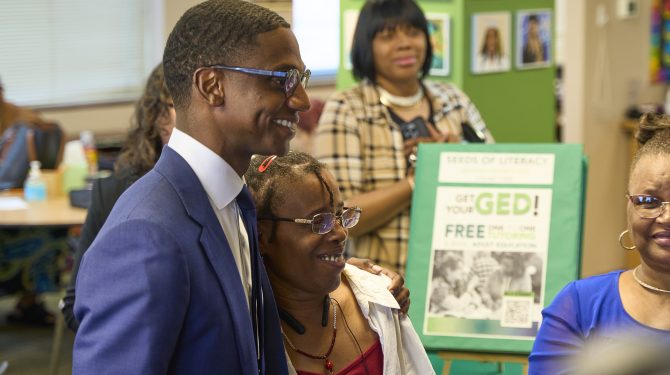 In July, members of the Seeds Leadership Team hosted Cleveland Mayor Justin Bibb and his Chief Education Officer Holly Trifiro at Seeds West. The Mayor graciously greeted all of the staff, pausing to learn names and roles. He heard about the mission and history of Seeds from Bonnie Entler, and the impact of illiteracy on the workforce from Dr. Carmine Stewart.

Newly published student authors Melissa Hill Nance and Denise Sanders each shared their deeply personal stories with him, underscoring the need for Seeds services in the community. Moved by their dedication, the Mayor pledged to attend their future graduation.

Mayor Bibb and Holly also played a quick round of GED trivia against our intern, fielding questions in Language Arts, Social Studies, Science, and Math. The round was designed to show just how difficult the GED is for adults at Seeds and it worked*. When Mayor Bibb visited the classroom, he laughed as he told the students his score, and expressed how impressed he is with their dedication, and how proud he is of their commitment to education.

# # #
* How hard is it? Try your hand at some GED, pop culture, and Seeds questions at our Trivia Time: Game Night with Seeds on November 11, 2023.