Registration for the Physical Classroom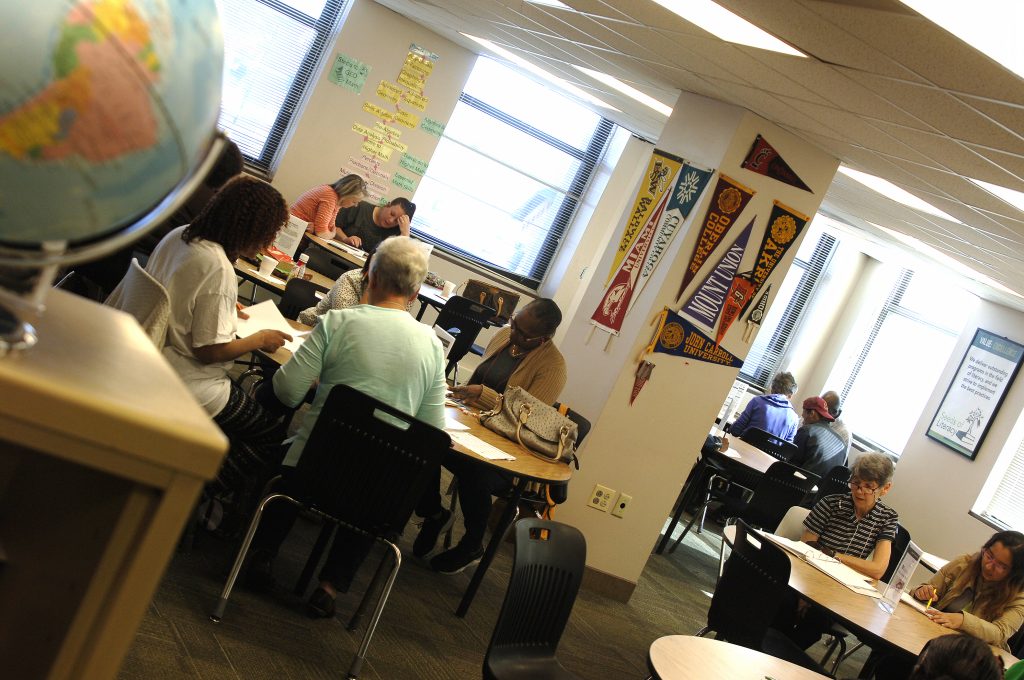 Registration. Orientation. Enrollment.
At Seeds, those words essentially mean the same thing – to get you into the FREE tutoring program and on the path to earning your high school equivalency (GED® or HiSET®). Learn more about getting started with us below.
If you are unable to complete the registration form from home, you can complete it during Orientation. If you need to complete the form AT orientation, please arrive 15 minutes early. Once you've completed Orientation, you are enrolled.
If you have any questions:
Email: StudentEngagement@seedsofliteracy.org
Call: 216.661.7950
---
Unfortunately, we are unable to offer GED tutoring in Spanish at this time.
WHERE do I attend Orientation?
Orientation is held at one of our two physical locations.
Seeds West
3104 W. 25th Street, 3rd Floor
(corner of W. 25th & Clark Avenue)
Cleveland, OH 44109
Click here for a map
Seeds East
13815 Kinsman Road
(corner of Kinsman & E. 139th Street)
Cleveland, OH 44120
Click here for a map
WHAT TIME is Orientation?
We have daytime Orientation for new students EVERY WEEK (this is called open enrollment.)
First, decide WHERE you want to be a student.
Once you've selected a location, you'll know what days you'll need to come to Orientation:
Seeds West holds Orientation on Tuesdays at 1pm EST.
Seeds East holds Orientation on Wednesdays at 1pm EST.
Evening Orientation for in-person classes is offered at 5pm on the second Tuesday of the month at Seeds West.
Please arrive 15 minutes early if you have not already completed the Registration Form.  www.seedsofliteracy.org/student
(Want to take Virtual Orientation? Learn more on the Register for Virtual Orientation page)
HOW LONG does Registration / Orientation last?
The Registration Form takes about 15-20 minutes to complete during Orientation. We recommend you complete the Registration Form BEFORE you come to Seeds.
In-Person Orientation is about 3.5 hours, and includes testing.
Please plan arrive 15 minutes early and plan to be at Seeds for the entire  3.5 hours.
(Want to take Virtual Orientation? Learn more on the Register for Virtual Orientation page)
WHAT happens at Orientation?
Orientation is the only time that Seeds operates like a traditional classroom, with a "teacher" in the front, talking to everyone at the same time.
You will meet your Student Engagement Coordinator and learn about how the Seeds program works. You'll hear all about the high school equivalency test options available.
Then you will take the Test of Adult Basic Education (TABE). This isn't the kind of test you can study for and you should not worry about taking it. All this test does is help us determine your skill level, so we know what kind of classwork to give you on your first day of class. The test may take up to 3 hours, but some people finish earlier. For the best results, you should not rush.
Following Orientation and completion of the TABE, students may attend class. Class time is really tutoring time, conducted as one-to-one instruction.
To see what a typical class/tutoring session looks like, click here.
(Want to take Virtual Orientation? Learn more on the Register for Virtual Orientation page)
WHAT should I bring to Orientation?
You just need to know your current address, phone number, and social security number to include on the Registration Form.
It is helpful if you complete the Registration Form BEFORE attending Orientation.
WHEN can I start classes/working with tutors?
After you have completed both your Orientation and your TABE, you may begin classes right away!
(We do not offer classes on Fridays. For additional details about class times, click here.)
WHAT IF I already have a high school or GED® diploma?