January 11, 2021
First Out-of-State Student Graduates from Virtual Classroom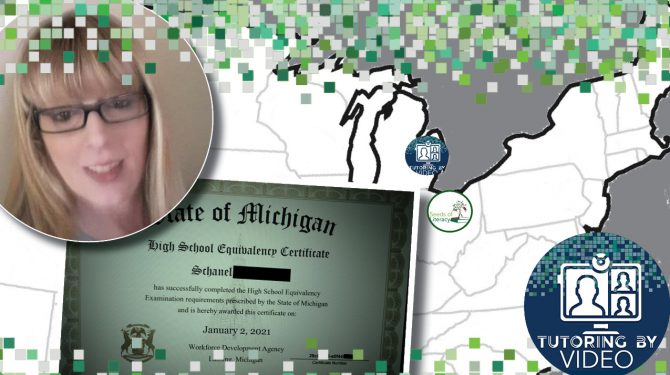 Michigan-native Schanel thought her years of skilled labor would more than make up for her lack of a high school diploma – after all, it had so far.
Like many Seeds students, Schanel didn't finish high school because she chose to stay home and take care of family. Her sister, 10 years her senior, had children and needed her help at home. As a result, Schanel dropped out in 9th grade.
The now 43-year-old is lucky – she lives near Detroit, an area synonymous with the auto industry. The Big Three U.S. manufacturers are all there – GM, Ford, and Fiat Chrysler. With the largest automakers in one area, everything related to the production of vehicles is big business, with lots of job opportunities. Schanel learned a skilled trade, and works for a company that produces for the automakers. She earns $20 an hour, a wage she feels is "more than pretty decent."
An Employment Opportunity Foiled
Her knowledge and skills made her a great candidate for an electrician position with one of the Big Three, a move that would add an additional $15 an hour to her pay. She applied. She interviewed well, and was even offered a position pending background, education, and reference checks.
"I didn't want to lie about having my GED," she said. "I didn't think it would matter because of my experience. But it mattered. It was a real eye opener that I didn't get a job because I didn't have one piece of paper. I was really bummed."
Schanel had tried to get her GED years ago, passing the Science and Social Studies sections before giving up. Missing a lucrative opportunity was just the push she needed to finish.
Unfortunately, before she could recommit to completing her education, her sister passed away. "I had a hard time," she said. The grief took over any thoughts of returning to school. "The GED was the LAST thing on my mind," she continued. "But then I got to thinking. I knew she'd want me to do this."
Too Good to Be True?
Dedication renewed, but worried she couldn't do it alone, she started researching tutors. "One of the tutors I looked into wanted $85 an hour!" She was discouraged, but kept looking. Google led her to Seeds of Literacy.
"At first, I really thought Seeds was too good to be true," she said. "There's no way it could be FREE. What's the catch?
The one-to-one tutoring program for which Seeds is known is entirely free. Tutors are available 3 times a day, 4 days a week. Adults can work with tutors for as long as they need to achieve their goals. Seeds provides curriculum, pays for official practice tests, and assists with vouchers for discounted GED tests.
From her home in Michigan, Schanel enrolled online and became a student in the Virtual Classroom in November.
Ambitious Goals
"When she came to us, she had a really ambitious goal to finish her GED by the middle of January," Evening Coordinator Melina Lindsey explained. "The sections she had already passed are both heavily based on reading comprehension so she planned to take Reading Language Arts right away." Because Schanel lives in Michigan, she was able to take (and pass) the RLA test from the comfort of her own home. (The online exam is not yet available to students in Ohio.) All that remained was Math.
"For Math, we paired her with tutor Kevin Kelley," Melina said. "He's been really flexible with his schedule and was willing to work with one student three times a week. They seemed to really connect, so much so that she only wanted to work with him."
Schanel completed her GED January 2, becoming the first student to enroll, attend, and graduate from Seeds' Virtual Classroom from out of state! She beat her own deadline by several weeks.
"What impressed me so much about her was how unbelievably dedicated she is," Melina said. "She shared that she spent several hours studying on her own, every single day. She made huge progress in the two months she was with us. It's really incredible. "
With her diploma in hand, Schanel reapplied to Fiat Chrysler. The company's Human Resources department recently congratulated her on her academic success. (Fingers crossed that a job offer comes next!)
# # # KLK