March 08, 2016
Literacy is Key to Women's Equality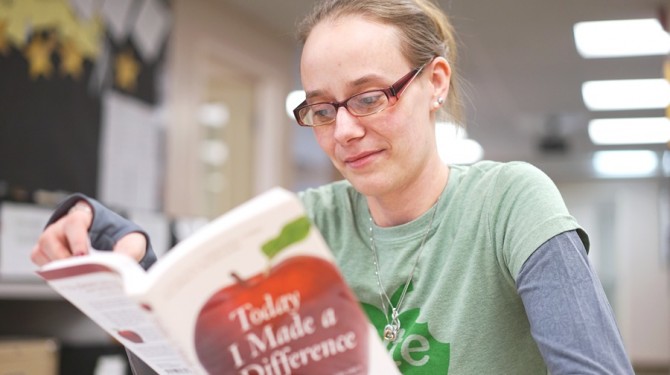 Today is International Women's Day, a time to recognize the achievements of women worldwide, and to advocate for all of the progress yet to be made.
For many women, the cornerstone of that potential progress is improved literacy. Worldwide, 493 million women can't read. As a result, they are disadvantaged economically and socially, with unequal access to and engagement with education, jobs, and healthcare. The facts are clear: literate women are more likely to send their children to school, have better maternal health, make better healthcare decisions for their children, and economically improve their communities.
With such staggering worldwide statistics, the need for improved literacy for women tends to be spoken about in global terms with a focus on developing countries. But in developed countries, we often fail to realize the serious need for improved literacy that surrounds us. Every day in America, millions of women are affected by the barriers of low literacy.
The inability to read is usually what comes to mind when we think of illiteracy, but having low literacy skills (as 36 million American adults do) is just as much a threat to a woman's independence and safety. Beyond-basic literacy and numeracy skills are required for financial literacy, a key factor in women achieving financial independence and preventing financial abuse in domestic relationships.
Additionally, a woman's literacy skills, if she has a family, are closely tied to the literacy of her children. More than any other factor, a mother's reading skill is the greatest influence on her child's future academic success.
It's important to be aware of this familial effect. Of Seeds of Literacy's more than 1,000 enrolled students in 2015, a little over half were female. Of those women, 64% said they have children younger than 18 in their home, compared to 39% of their male counterparts. In an even greater disparity, 47% of female students identified as a single parent or guardian, compared to just 8% of male students.
With children more present in women's lives, women are, in turn, more present in children's lives. A mother's literacy skills create a ripple effect for generations to come.
Women enrolled in Seeds of Literacy, and other adult literacy programs across the nation and across the world, are trying to be more for their families, and for themselves. Their decision to work through the fear of returning to classes and to stay dedicated while often facing the hectic struggles of family and poverty is brave and deserves our praise and support.
We talk about the effects a woman's improved literacy has for her children and her community because they demonstrate the unique and expansive impact a woman has on those around her. We create a global disadvantage when we do not value and support women's education.
Women, whether in Cleveland or Kabul, deserve literate lives not only because of what their literacy can give to others, but because of what literacy can give to themselves. A woman deserves opportunity and security, the chance to flourish in her life as any man would in his.
With a clear focus on supporting literacy in our communities, we can achieve this for all women, today and every day.
Your donation to Seeds of Literacy will support women working to reclaim their education.