July 01, 2019
Seeds Graduation Re-CAPPED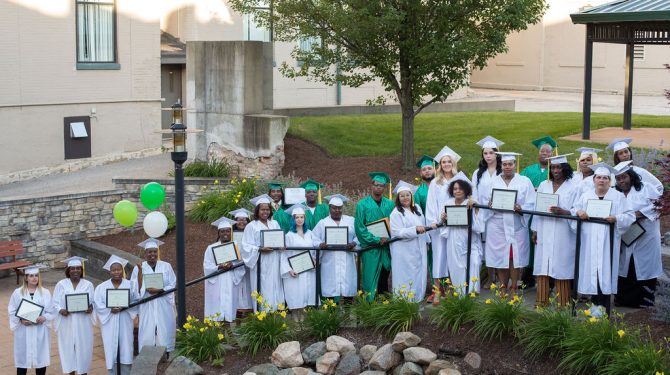 Wednesday evening, in the auditorium of The Centers for Families and Children on Euclid Avenue, Seeds celebrated the successes of the Class of 2019. At 51 graduates, this is the second-largest graduating class since the GED went computer-only in 2014.
Among the graduates were longtime Seeds students like Rose Copley, who passed her last section two days before graduation. "I felt special," says Rose. "It was my day." Rose, who has been a student at Seeds for nearly five years, feels her outlook has changed since obtaining her High School Equivalency. "I'm always pushing forward," she says. "This is helping to push me forward. It's another open door."
Student Speakers
Reggie Latten of Seeds' East Side location started off the student speech portion of the night. A dedicated student, Reggie was recently selected as one of four recipients of the 2019 GED Student Awards. The prize includes a trip to Chicago for the 2019 GED Conference and a $1,000 scholarship toward Reggie's continuing education at Bryant & Stratton. "While at Seeds," Reggie said, "I learned the following things to stay successful, including: stick with it no matter the setback. Show your grit and motivation to accomplish the task… Most of all, reward yourself in a positive way."
Imani Moree from Seeds' West Side location went next. Known fondly on the West Side for her confidence and exuberant personality, Imani was shy at first, explaining to the audience she was only speaking because Chris had asked her to. But as her speech went on, she found her footing. "Once I focused, it became a habit," she told the audience of her study habits. "I was hungry for success. I'm still not full."
Fatima Kaba of the East Side closed out with an emotional, stirring speech. There were laughter and tears from the audience as Fatima recounted her struggles with immigrating from Africa, homelessness and the GED. She gave high praise to site coordinator Kara Krawiec for helping her through, as well as other volunteers, staff, and students she compared to a Seeds family. "Receiving a new family was the most rewarding part in this whole journey," she said. "I'm taking Seeds with me to Tri-C, Africa, Canada, wherever life takes me because this is the true meaning of family and support."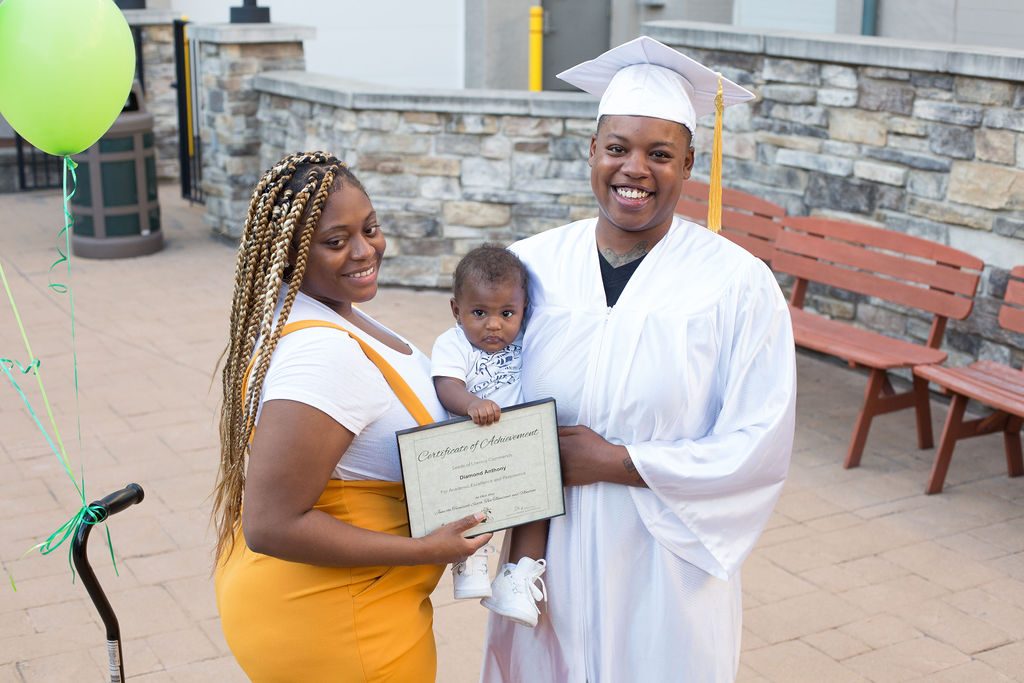 Beyond "The Sky's The Limit"
Airline captain, marathon runner, and literacy advocate Courtney Schoch was this year's graduation speaker. Courtney, a GED graduate herself, has a remarkable life story, one that she only had time to cover in broad outlines. Instead, she focused her powerful speech on overcoming fears and climbing the stairway to success. "I was broke and in an abusive marriage when I decided to tackle my fear of flying," she said. I faced my fear and it turned into my profession."
Captain Schoch has raised money for Seeds through Runucate, the running and education nonprofit she founded. Seeds is truly lucky to have such a dedicated literacy advocate in our corner.
Volunteers
At Seeds, we couldn't do a tenth of what we do without our volunteers. They offer tutoring to our students and help run programs that keep our organization afloat. This year, we recognized two volunteers for their outstanding work: Jenny Rosenberg, recipient of the Volunteer of the Year Award, and Fred Benda, recipient of the Arthur Zammikiel Tutor of the Year Award.
Site Coordinator Chris Richards introduced Jenny. He described her involvement in numerous outreach events and, ultimately, her crucial role as a volunteer member of the Student Leadership Committee. Of her participation, Chris said: "It's no exaggeration to say that she's helped make the committee what it is today."
Digital Literacy Coordinator Billy Hallal introduced Fred. He told the story of how Fred began tutoring at Seeds after retiring from academia and highlighted his humility and hard work. "The man immerses himself entirely into a tutoring session," said Billy. "He goes in, helps students, and is gone with scarcely enough time for anyone to even notice or say thank you. "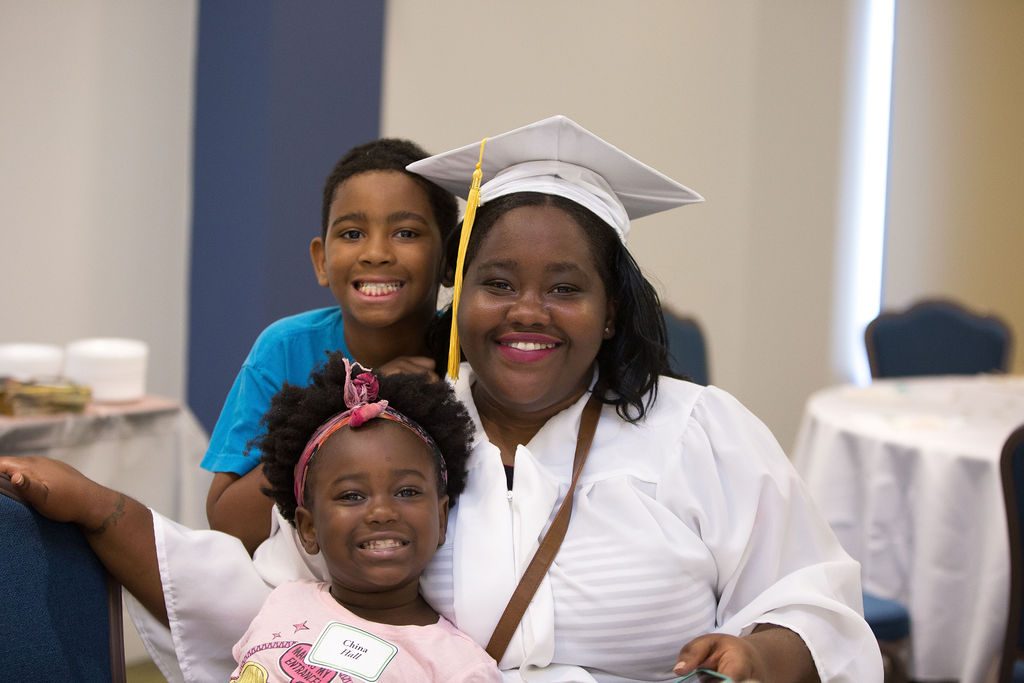 A Night to Remember
Board member and longtime volunteer Mark Yanochko remembers when graduation was held in the bank lobby downstairs. Things have grown since then. "You can't put 190 people in a bank lobby," he says. According to Mark, things keep getting better: "This was the best graduation ever," he says.
Our graduates' achievements were underscored by one of Cleveland's most famous landmarks: for the third year running, the Terminal Tower went green for a night to honor our volunteers and the Seeds Class of 2019.
As the Tower illuminated our skyline with Seeds green, it was easy to feel as though the entire city was celebrating our graduates. It was easy to imagine a future in which way less than 66% of adults in Cleveland are functionally illiterate. It was easy to hope for a day in which Seeds will not be a necessity for students who need a diploma, but an option for those seeking lifelong learning.
Until that day, let's honor and celebrate our volunteers and the Class of 2019!