February 04, 2020
Seeds President and CEO Bonnie Entler Named COABE 2020 National Award Winner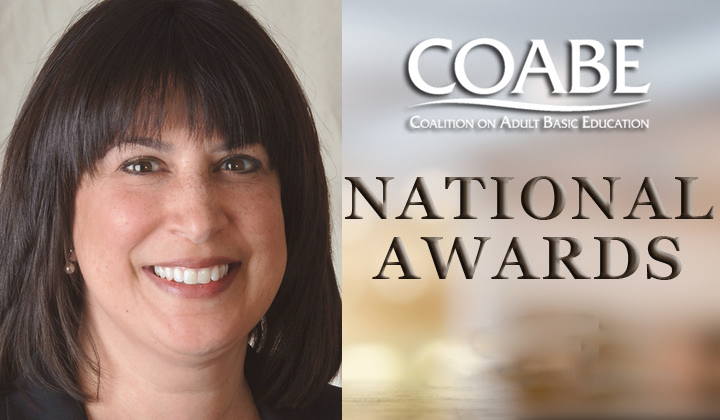 Seeds of Literacy and its President and CEO Bonnie Entler received the award for Local Excellence in Advocacy for the 2020 Coalition on Adult Basic Education National Awards.
Entler and Seeds were honored for their advocacy on behalf of the organization's students and adult education. In 2018, the State of Ohio removed its funding for Seeds of Literacy without warning, a loss of 14% of the nonprofit's income. The move was especially puzzling as there is a crucial need for adult education programs – according to a study by Case Western Reserve University, nearly 66% of adults in Cleveland are functionally illiterate.
Despite the reduction in funding, Entler refused to allow Seeds of Literacy students to feel any effects of the cuts and continued to provide the programing its students expected. She also began lobbying local, state and federal lawmakers to educate them on the critical need for services such as those provided by Seeds of Literacy and enlisted several staff and volunteer supporters to advocate on Seeds' behalf. In addition, Seeds invited numerous lawmakers at all levels of government to visit one of its two classroom locations in Cleveland, an offer that was taken up by many government representatives.

Their hard work and advocacy paid off – on July 18, 2019, Ohio Gov. Mike DeWine signed the state's 2020-2021 operating budget, which included funding for Seeds of Literacy. With the funding restored, Seeds plans to grow to new heights and serve more of the community that needs its services.

Seeds of Literacy will receive a $2,000 grant as part of the award. The 2020 COABE National Awards are funded in part by the Dollar General Literacy Foundation.
"We are honored that the Coalition on Adult Basic Education has decided to recognize the hard work we have done in the past to educate and inform our government leaders about the need for adult education services in the Cleveland area," said Bonnie Entler, President and CEO of Seeds of Literacy. "Seeds of Literacy's personalized instruction model empowers our students to achieve their academic goals. Nearly 66% of adults in Cleveland are considered functionally illiterate, making everyday tasks such as understanding a bus route, reading the instructions on a medicine label or applying for a job online challenging, if not impossible. We are committed to helping empower these adults through education to make a difference not only in their own lives, but in the communities they live in as well."

Make sure to check out our other blog posts and social media sites for more information on the great things we do here at Seeds!