March 12, 2023
Tutor Spotlight: Lynne & John Brenner: The In-Laws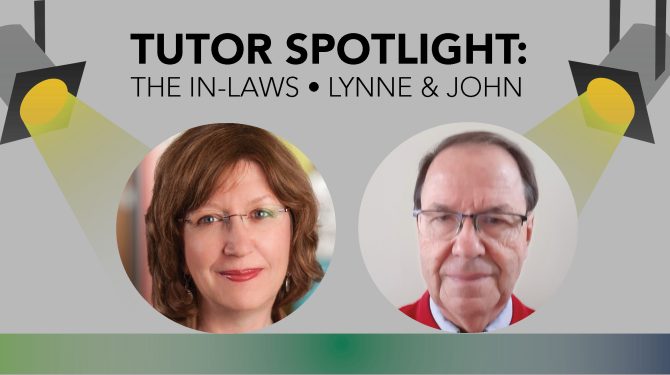 Word of Mouth is the #1 recruitment source for students and quite often, for tutors too. Lynne recruited her brother-in-law to work in the Virtual Classroom.
LYNNE MEILLEUR-BRENNER joined Seeds in 2018, not knowing what to expect, but ready to make a difference. She signed up for tutor training after learning about Seeds from the Cleveland Foundation, who stressed the impact the organization has on individuals, families, and the community.
"I took the in-person training and found it informative, professional, and friendly," she said, "Not overwhelming. I felt prepared." The rest is history.
The Rocky River resident is now a regular, tutoring 3 times a week. "I'm surprised and continuously impressed by how dedicated the students are while balancing jobs, families, and all of life's demands," she said. Adult learners choose to come to Seeds, and it shows.
In the Family
Lynne didn't have to stop tutoring when COVID hit. She just went Virtual. Her brother-in-law John wasn't so lucky.
JOHN BRENNER lives just outside of Columbus and tutored math with several agencies in the area until the pandemic made it impossible. He thought his tutoring days were on hold indefinitely… until he learned about Seeds from Lynne.
Having tutored elsewhere, he was qualified and felt he knew what to expect. "But I have learned to appreciate just how difficult a task is for many students," he said. "Some have been out of school for a very long time. Some left school very early. Almost all seem to have difficulty with math. It's a long, tough journey for many. Yet, some make it!"
Although both Brenners have a semi-regular student each, they count on the staff to pair them with the student that needs them most at any time. As a retired engineer and researcher, John likes to work with students challenged at the higher levels of math, but he's happy to help any student, at whatever level they may need.
Lynne likes tutoring math also, but it's second to her love of reading. "I still learn so much and I like to share that awareness with students."
The Challenges
Eliminating transportation requirements is a huge benefit of the Virtual Classroom. Students and tutors alike appreciate the flexibility it affords. But sometimes the tech itself poses a problem and requires a calm patience from the tutor.
Lynne struggles when a student has a poor internet connection. Dropped and inconsistent connectivity can make it frustrating. "And, the student devices are often limited in size," she said. Ideally Seeds recommends that students join the classroom via a tablet or computer but some only have a small phone screen available.
"Seeing their work sometimes gives me a clue as to what they are thinking, and then I can better address problems they may be having," John said. That's just not always possible in the Virtual Classroom.
The Reward
"I found the one-to-one model and virtual capabilities to be an attractive means to get back in the game," John said. "It's been nice to eliminate all the travel associated with in-person tutoring and without Seeds, I probably would not be tutoring at all."
For Lynne, the people keep her coming back: the staff, other tutors, and of course, the students. Like many of our tutors, she's especially delighted when a student sees their own achievement. "The accomplishments of the students, whether it's passing an official test section, or just learning how to add fractions, it all adds up."
"I truly believe that literacy is the way to improve individual lives," John explained. "The local community, larger region, and nation are impacted that way – one life at a time."
To those considering tutoring, It's easy, John said. "Pick your favorite subject and give it a try."
Lynne admits it's not for everyone but still encourages others to learn more. Even in a one-to-one tutoring session, you aren't alone in the classroom. "The site coordinators are wonderful, supportive, and helpful," she said.
###KLK
---
Volunteer training sessions are offered every 6 weeks. Ongoing professional development is also available. Tutors need not worry about creating lesson plans. The staff has all of the curriculum and lesson plans ready for each student. "Class" (one-to-one tutoring) is just 2 hours a session and is offered 3 times a day, 4 days a week. YOU choose which days and times work best for your schedule, even if it changes each week. One class session is the equivalent to just 1% of your entire week!