November 20, 2018
[VIDEO] Seeds Staffer WINS 1st Ever National ProLiteracy Hero Award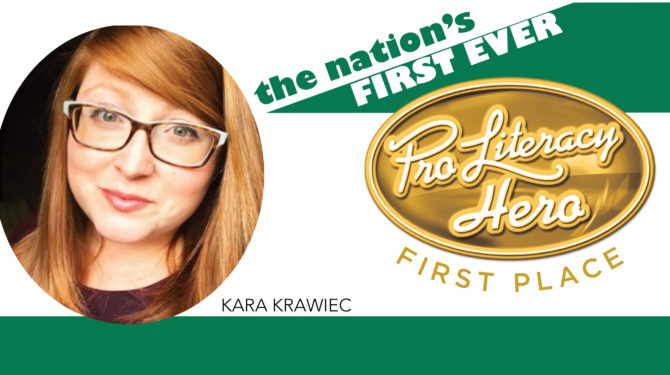 ~ UPDATED: We Won! ~
After being selected as a Top 10 Finalist by a panel of ProLiteracy Judges, KARA KRAWIEC, a site coordinator at Seeds of Literacy's East side location, advanced through three rounds of public voting, becoming the FIRST EVER ProLiteracy Hero!
Cheerful but modest by nature, Kara was nominated by colleagues in secret. She didn't learn of the nomination until it was announced she was in the Top 10.
"I am overwhelmed by the love and support I've received. I can't believe you guys did this," Krawiec said.
"We know public voting like this can be exhausting, but we're delighted at the outpouring of support!" said Communications Director Katie Kucera. "On behalf of Seeds, and Kara, I want to thank everyone that's hung in there with us and showed the world that Cleveland cares about adult literacy."
Kara was the only INDIVIDUAL to advance in the competition. She is joined by second-place finalist, Vision Literacy in California, and third-place finalist Tarrant Literacy Coalition in Texas.
"I want to congratulate Vision Literacy and Tarrant Literacy Coalition, as they continue to work hard to change the world," she said.
"I'm so deeply honored to be the first ever recipient of this award! My heart is so full!" she continued. "I cannot express how much this award means to me and I'm so grateful for all the people who voted endlessly in order to ensure we won! I couldn't have done it without each and every one of you. In fact, I could not do any of this without the incredible support of my family, colleagues, volunteer tutors, and most importantly, my awe-inspiring students whose perseverance and drive never cease to amaze me."
ProLiteracy, the largest adult literacy and basic education nonprofit organization in the nation, launched this contest to raise awareness about illiteracy in the U.S. "I'm so glad this award brings Seeds of Literacy into the international spotlight and we are able to let the world see Seeds, and our students, shine," Kara said.
Prizes include over $5,000 in New Readers Press adult education materials split between the top three finalists, ProLiteracy memberships, conference scholarships to the 2019 ProLiteracy Conference on Adult Education, Southwest® Airlines travel vouchers, and cash.
# # #
---
Watch the video nomination and read the essay below.
Kara Krawiec has worked with college students at John Carroll University, tutored high school kids preparing for the SAT and ACTs, and has since found her true calling — helping adults achieve their dreams of a high school equivalency.
The typical Seeds student is vastly different from the collegiate students she once taught– but Kara treats each and every student with the same level of respect and encouragement.
Kara wanted her students to share in her love of reading. However, students at Seeds enter the program with very low reading levels, some as low as 4th grade. They have very little to no experience with classic literature or poetry.
She didn't let that stop her. She asked if they be interested in a club, but was met with lackluster response. Undeterred, she tried every motivator she could: she asked politely, she strongly suggested, and she demanded. She smiled prettily, promised it would be fun, cajoled, and even begged and bribed. She let them choose the short stories, and offered to read aloud TO them. "Just give it a chance! Book Club is the best!"
The first meeting was attended by three tutors and eight students…even a few who admitted coming only for the pizza and treats (which Kara paid for out of her own pocket!)
A magical thing happened.
Soon, Kara wasn't the only one reading out loud. They were reading to each other. They were thinking critically and having discussions. They were reading college-level short stories and plays, expanding their vocabularies and their minds. After the Club read Ten Minutes from Cleveland, a series of short plays by Eric Coble, the award-winning playwright came to speak to them. A bit star-struck, the members granted him honorary membership and invited him to return.
Members returned to Book Club each week. They began cooking and bringing in treats to share with the group. Their confidence grew, and several volunteered to read poetry to the class. Others were asked to recite poetry to a sold-out audience for the Cleveland Singers' Club .
The Seeds Model is unique: students work one-to-one with a tutor. But Book Club gave them a support group of their peers. They formed friendships and fellowships, even working together in the classroom before and after tutoring time.
"Book Club has been inspiring because it helps us enjoy life and fellowship with each other and learn about loving yourself, and wanting to make our lives better. Also…having a chance to laugh and relieve our stress."
"When I first came here, I thought it would be boring but when everyone read the story [aloud], there was a lot of expression, a lot of laughs. Any story I read… it takes me anywhere I want to go. [In book club] I felt at ease, happy."
"…the discussions of what we read helps with the comprehension of it, and the comradery of everyone in Book Club makes it seem less like a club and more like family."
"Kara taught me things I couldn't pronounce or understand. She's helped us speak our opinions."
But it's not all about the books and the other members. "They come for Kara," said Todd Seabrook, a colleague who led Book Club when Kara couldn't be there. "They didn't want me. They all wanted her there to lead the discussion. They were relieved when I said she'd be back next week."
In the six months since the Club began, reading levels increased an average of 33%, and general class attendance went up, as well. For many, Book Club on Wednesdays is the highlight of their week, and the one day they won't miss school.
Several of the original members graduated, but continue to come to Seeds on Wednesdays for Book Club, as often as their schedules allow. With their newfound confidence, other members of the Book Club have also joined the Seeds Student Leadership Committee, encouraging their peers on the path to graduation.
Kara is truly one of those rare individuals. Students want her to be proud of them. Even the most hardened students soften around her. Her enthusiasm for learning is infectious and she is firm in her belief that every student can – and will – succeed.
She may not wear a cape, but she is definitely a super hero.
RELATED READING