April 22, 2019
She Found Her Voice In A Ballroom: Student Success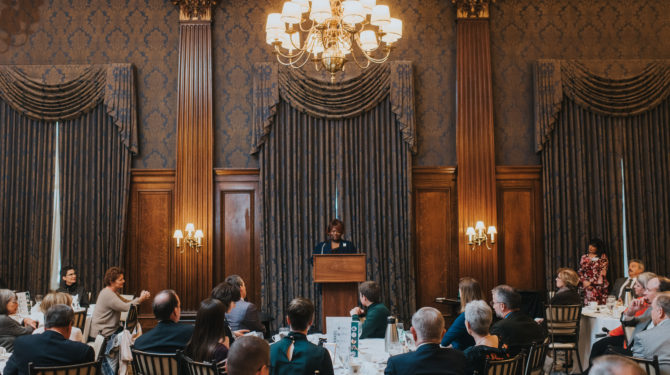 November 2018: Valerie Taylor approached the lectern slowly when it was her turn to address the crowd. She took a deep breath, and spoke — deliberately, with purpose and clarity. For a moment, she paused as emotion took over her. The audience hung on every word, and when she was done, they rose to their collective feet and applauded. She'd done it, and she knew she'd done well.
* * *
Less than a year earlier: Valerie couldn't have imagined speaking in front of a large crowd, in a ballroom, no less. A year ago, she was just mustering the courage to go back to school, decades after she left without a diploma.
"High school was a lot different in my day. I just wasn't getting the help I needed. I wasn't catching on as fast as the others. I was feeling left behind," she said. So she never finished.
"I'd been working in day cares for 18 years but the regulations changed and a GED became mandatory," she explained. "I was let go. Now I just take care of my grandkids and friends' kids."
The mother of 3, grandmother of 7, had actually been to Seeds once before, but left to take care of friend's child. Once that situation had improved, she returned. "It was my time now," she softly declared.
Although Valerie is quiet and shy, she'll give you a big smile in greeting, and if she trusts you, she'll try just about anything. That's how she ended up speaking to 100+ donors in the grand ballroom of the Union Club for Seeds' Thrive! luncheon in November.
"Sweet little [site coordinator] Kara smooth-talked me into speaking. I've never done anything like that before, but she promised to stay right by me," Valerie said. "She encouraged me and helped me with my speech. We practiced it over and over so I wouldn't be afraid."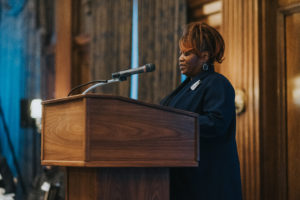 But no amount of practice could have prepared Valerie for the view from the lectern, which was intimidating at first. "I looked around that big room, searching for faces I knew. But everyone was smiling at me, waiting to hear me speak."
"It was exciting," she admitted. "But when it was over, it was also huge relief. A great big weight lifted off me. When people started clapping, I knew I did a good job."
Valerie is thriving at Seeds. She's an original member of the Seeds East Book Club. "I loooove Book Club," she said with a huge smile and slowly explained why. "It keeps us focused. It teaches us words we don't know. We can express ourselves without fear of being made fun of." Like all of the original members, Valerie joined to make her teacher happy, but has since found that it makes HER happy, as well.
She's also a member of Student Leadership and this summer, she'll attend community fairs with Seeds' staff to share her story and encourage others to give Seeds a try.
Unlike most students, Valerie took the Math section of her GED first. "I saw everyone else really struggling, but I like Math so I did it first and got it out of the way." When the results came in, her class cheered for her.
Education has become a family affair for Valerie. When she saw her sons struggle with classes, she recognized it, and got them the help they needed to finish school. "I didn't give up on them. Dropping out wasn't an option," she said. Now, she and her grandchildren study together. "My granddaughter helps me. We're both working on expressions and quotations," she said.
"I love Seeds," she repeated. "It's like a big family. Everyone is kind. Everyone wants to see you succeed. When I miss class, I'm lost."
# # #
KLK